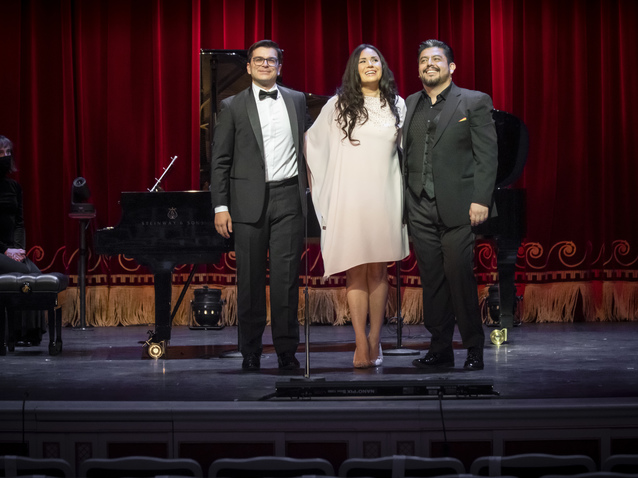 Artists must speak, make music, and perform: that is their language, that is their soul. Even if it is not reflected in politics, art and culture are part of our society, and as much a part of our life as eating, drinking or breathing. Artists cannot survive without performances and have thus fallen into a deep existential crisis due to the Coronavirus crisis, with its severe restrictions, and are currently being confronted by existential economic fears. Private initiatives are trying to alleviate their suffering. The Swiss watch company Rolex has been a committed supporter of art and artists for many years, and is now once again reaching generously into its pockets as well as acting as a concert promoter to enable numerous artists to perform and thus generate income - as well as spiritual joy. The preservation of art is the leitmotif of the Perpetual Music Concert series. Stars such as Juan Diego Florez, Sonya Yoncheva and Rolando Villazon have been brand ambassadors in the luxury manufacturer's advertising for years. Now they are performing as hosts in three concerts taking place in three countries, and inviting a hundred fellow artists to perform too. This is a generous, admirable and warm-hearted initiative in the service of art and society, and we hope that many companies will follow this example.
After Juan Diego Florez in Pesaro, Sonya Yoncheva steps onto the stage of the Staatsoper Unter den Linden in Berlin, welcoming one hundred invited guests who will sparsely fill the first and second tier of the house only. The corridors and foyer of the establishment feel eerily empty, but in the large hall this sad situation can be perceived even more strongly. The rows of seats in the stalls are unoccupied and covered with white tape. With such images in mind, the severity and sense of the measures taken must be questioned, and have been fuelling discussion in the cultural sector for weeks. The happy guests are waiting reverently and almost motionlessly, with hardly any whispering or coughing, and masks are to be worn until the concert begins. In front of the closed stage curtain made of burgundy velvet, a grand piano stands on the empty front of the stage. Disinfectants are constantly in use on the stage at the piano, while numerous ghostly helpers operate completely in black and with black face masks. Light-hearted cultural enjoyment looks a little different.
Sonya Yoncheva, wearing an elegant knee-length dress with a short integrated train and thin high heels, then breaks the silence, welcoming the guests and thanking the opera house and sponsor on behalf of all participating artists for the opportunity to perform live and in front of an audience. Her speech comes from the heart and touches the hearts of her listeners, who are also delighted to absorb the live experience.
The young pianist Olga Zada opens the evening with a fresh and light interpretation of Franz Schubert's Impromptu op 142 D 935. The soprano Ekaterina Siurina, accompanied by Giuseppe Mentuccia, then weaves more drama than necessary into the famous jewel aria of Gretchen from Charles Gounod's Faust. Alfredo Daza's performance of Giuseppe Verdi's aria "Morir tremenda cosa!", from La forza del destino, is dark and gloomy. The audience can breathe a sigh of relief and enjoy solo virtuosity with Klan Soltani on cello playing David Popper's Hungarian Rhapsody. The work is characterised by rousing rhythms and a range of folkloric melodies. Michael Volle fittingly places a powerful rendition of Richard Wagner's exhortation, "Verachtet mir die Meister nicht" ("Don't despise the masters") from the Meistersinger von Nürnberg, alongside it, full of dignity and authority. Coquettishly refreshing and with all the necessary audacity, soprano Fatma Said entertains her audience with Francis Poulenc's aria "Non, Monsieur, mon mari" from Las mamelles di Tiresias. Alongside clarinetist Pablo Barragan, violinist Veronika Eberle and pianist Julian Quentin, other outstanding instrumental soloists are showcased. Another highlight is provided by Avi Avital, with his artistic performance on the mandolin. He seems almost to merge with his small instrument, enchanting his audience with Romanian folk dances by Bela Bartok and an elegiac traditional Bulgarian melody. The hostess of the evening, Sonya Yoncheva, also hails from Bulgaria, and once shone and touched audiences in a duet with Alfredo Daza from Wolfgang Amadeus Mozart's Don Giovanni ("La ci darem la mano") and - in particular - with George Frederic Handel's aria "Lascia Ch'io Pianga", from the opera Rinaldo.
Once more she invites all of the artists onto the stage, who are happy to take in the hearty applause of the audience. And so a small step towards the return of the cultural industry is taken, and we hope that many more will soon follow.
Helmut Pitsch
the 12 of September, 2020
|
Print