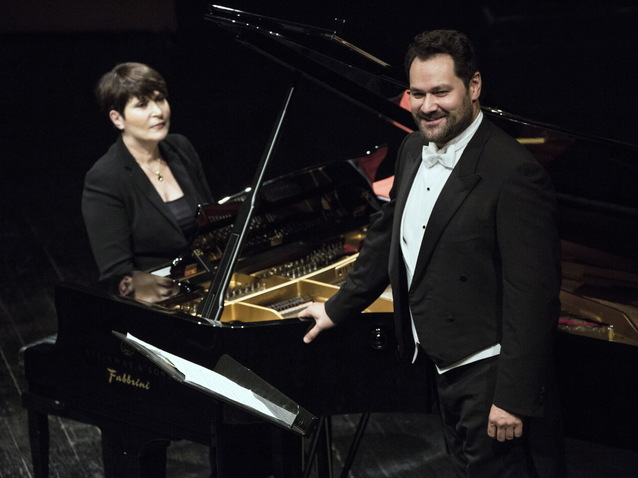 The bass Ildar Abdrazakov has it all: the sumptuous voice, the rock solid technique, refined musicality and a gift for story telling with which he brings music and text to life. But that Abdrazakov has talent is hardly news in Milan -- the bass has regularly featured in opera productions here for nearly two decades. Instead, the big revelation from this La Scala recital was just how versatile he is.
In Milan, Abdrazakov has always been most readily associated with Verdi. He has recently given the outstanding performance in La Scala's new production of Ernani, and next up will take the title role in Attila. The latter title is to open the season on the traditional date of 7th December – the biggest event of the Italian operatic calendar – making it a high-stakes outing for Abdrazakov. Not only will the eyes of the opera world be trained on Milan, but La Scala's scrupulous loggionisti, infamous for booing performance they deem substandard, will be on red alert. Neatly positioned between Ernani and Attila, Abdrazakov's recital was therefore an unmissable chance put the bass under the microscope.
It was clear from the start that he is a class act. Giordani's miniature "Caro mio ben" provided music-salon intimacy rather than bold opening statements, Abdrazakov spinning a warm legato and filling exquisitely shaped lines with colour and nuance. He used this simple number to give his impressive technique a spin, opting for a daring run through on the lines "Il tuo fedel sospira ognor, cessa crudel tanto rigor" and decrescendoing to a sound that vanished into thin air on the pianissimo high note that closes the penultimate phrase (an impressive effect he showcased more than once in this recital). Following on, Abdrazakov filled Alessandro Stradella's church aria "Pietà, Signore" with the drama and chiaroscuro contrasts of a Caravaggio painting, singing in a cowering sottovoce at the start and building to a blazing evocation of hell. Regardless, the noble, robust Abdrazakov was always a picture of physical poise, no matter how fiery the singing.
At his side, accompanist Mzia Bachtouridze was sensitive and self-effacing, dutifully supporting her stage partner, and endearingly bashful when he acknowledged her during applause. Abdrazakov, on the other hand, needed no encouragement. Schubert's Drei Gesänge (D902) are brilliant pieces, and were made to sparkle here: the bass filled "L'incanto degli occhi" with childlike wonder, before unleashing a torrent of coruscating text in "Il traditor deluso" (a work that recalls the theatricality of "Die Erlkönig") and singing "Il modo di prender moglie" with a knowing glint in the eye. In the French works that followed Bachtouridze's playing took on greater voluptuosity and Abdrazakov was irresistible. Massenet's forlorn "Élégie" was all brooding fin de siècle dejection and decadence, Louis Gallet's verses swilling deliciously in the bass's mouth, and the duo evoked Fauré's suave "Après un rêve" in delicate pastel tones. The Gallic portion concluded with a flourish, the bass sending a whirlwind of romantic fervour through the hall in "Fleur jetée".
A varied selection of rarely-heard Russian treats formed the second half of this concert. Kabalevskij's setting of Shakespeare's Sonnet 8 (op.52 n.7), in which harmonious music provides a metaphor for familial bliss, is a sumptuous work, while in Shostakovich's setting of the poet's Sonnet 66 (op. 62 n.5), life's weary traveller heavily plods.
Abdrazakov used a handful of works to show he is as good as anyone at the full-blooded Russian idiom (Sviridov's rollicking setting of Pushkin's "Pod'ezzhaya pod izhory", and Shostakovich's blazingly defiant setting of Robert Burns's "MacPherson's Farewell" (op.62 n.3)). But he also provided introspection – or trembling, whispered supplication – with "Separation" from Shostakovich's Suite on Verses of Michelangelo Buonarroti. Abdrazakov's sumptuous voice would surely have suited the famous fourth of Rachmaninov's 6 Romances (Op. 4). Instead, he performed the rarer nos.2 and 3, here alternated with two of the same composer's 12 Romances (Op. 14). It was thrilling to hear the bass rinsing every ounce of passion from the last note of the seventh of the twelve. Rippling spring in "Vesennie vody", the penultimate of the twelve romances, made for an invigorating close. But Abdrazakov did not stop there, instead offering no less than four encores. Here is a bass that apparently can do it all. This year, the hype surrounding La Scala's opening night is doubly justified.
the 13 of November, 2018
|
Print