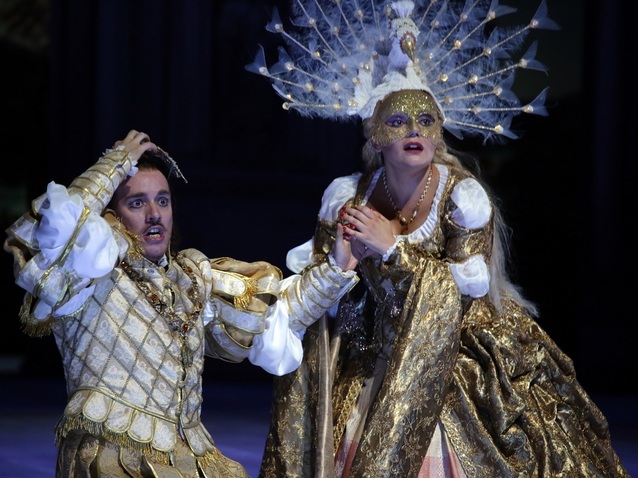 © Ph. Marco Brescia & Rudy Amisano
'Mi raccomando brevità, e fuoco,' is how Verdi illustrated his blueprint for Ernani to his librettist Piave. He can't have been disappointed by the final product. Verdi's fifth opera brims with rollicking tunes, stirring arias and incendiary ensemble numbers -- it is an uninterrupted flow of musical invention. Such has not secured Ernani regular appearances at La Scala. The opera had last appeared at the Milan house 32 years ago, in a production from Luca Ronconi conducted by Riccardo Muti. Now it was back with Sven-Eric Bechtolf and Ádám Fischer at the helm.
Fischer proved this performance's driving force. The conductor delivered a pacey, full-throttle reading, recounting the Victor Hugo-inspired plot, about Castillian noblemen, rugged bandits and honourable pacts, with unrelenting vigour and vivacity. The Orchestra del Teatro alla Scala provided a great deal of colour -- cantabile trumpets glowed, lower strings roared -- and Fischer employed extravagant gestures to draw a dense, treacly sound. That did not prevent the orchestra from remaining attentive to singers' needs; it hushed to a whisper on various occasions to make way for their entries. La Scala's excellent chorus was on irrepressible form, and clearly relished Verdi's arresting depictions of brigands, servants and knights.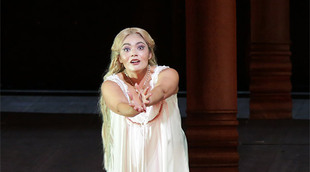 Ernani, Teatro alla Scala, Ailyn Perez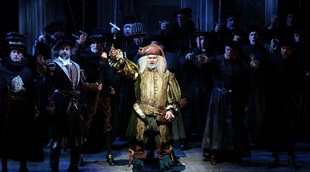 Ernani, Teatro alla Scala, Ildar Abdrazakov
Rather more lacking in interest was Bechtolf's production. The director has opted to present a 'play within a play', itself presented by invented characters from a nineteenth-century company whom we see onstage. Kevin Pollard's beautiful costumes – sequinned tunics, pastel-coloured silk dresses, opulent headpieces – evoke carnival scenes for Silva's palace, while the inclusion of two dancing 'grisettes' and luscious golden gowns for the principals add a touch of gritty realism and Disney kitsch respectively. But Bechtolf's dramatic scheme is not developed with conviction overall. While this ultimately traditional production functions perfectly well as an attractive platform for the singers it offers few new ideas or insights.
There was no shortage of fine singers to showcase, but in the end we might have expected more from them. Francesco Meli blazed through his arias in an open stream of sound and was impressive whenever singing full throttle, which was most of the time. Ultimately, though, he lacked timbrel variety, which made for a rather monochrome depiction of the title role. Luca Salsi, Italy's Verdi baritone par excellence, did not have a good night as Don Carlo. It took a few scenes for his burnished voice to sound warmed up, and, even then, he sang badly under the note whenever below a forte dynamic. Salsi is currently also starring as Macbeth at the Parma festival: during the performance of Ernani I attended, signs of tiredness were beginning to show.
Ailyn Perez is a fine Mimi or Violetta but was miscast in the dramatic coloratura role of Elvira. Forced to thicken her voice, she too sang flat on occasion. Such did not seem to warrant the opening night booing the soprano was forced to endure. Perez overcame inevitable challenges in what was an appealing if not always captivating performance, and provided moments of real beauty such as when spinning a glistening pianissimo in the hushed finale. Ildar Abdrazakov was an imposing Silva and delivered the standout vocal performance. He sang with apparently effortless suave, and his long, inflected phrases were distinctly Verdian. La Scala's full-blooded Ernani provides much to enjoy. 'Brevità e fuoco' indeed.
James Imam
(Milano, 2nd October 2018)
the 05 of October, 2018
|
Print