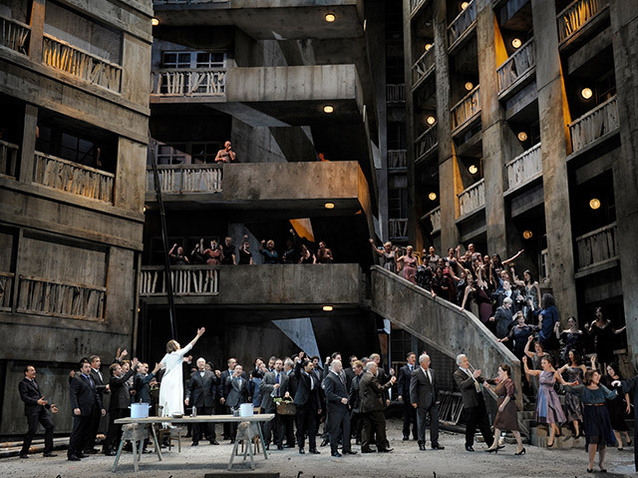 © (c) Thomas Aurin
Shostakovich's final opera, Lady Macbeth of the Mtsensk District, has had a rocky history. It was a smash hit when first performed in 1934, but it was officially condemned by the Communist Party two years later for its sympathetic portrayal of a triple murderess. Nowadays, it hovers on the fringes of the standard repertoire (barely making it into Operabase's 100 most-performed works globally last season). It's exciting to see it newly staged at the Salzburg Festival this summer, conducted by the indefatigable Mariss Jansons.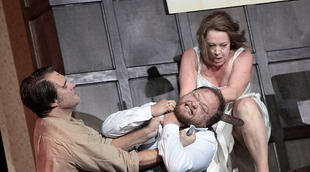 Brandon Jovanovich, Maxim Paster, Nina Stemme (c) Thomas Aurin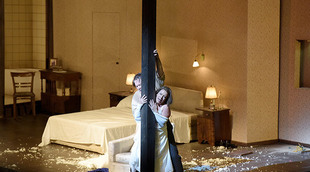 Brandon Jovanovich, Nina Stemme (c) Thomas Aurin
There's plenty about the plot of Lady Macbeth to raise eyebrows. A bored and lonely merchant's wife, Katerina, begins an affair (luridly described in the orchestration) with one of her husband's workers, Sergei. When her father-in-law Boris discovers the affair and brutally whips Sergei, Katerina poisons Boris. Her husband Zinoviy returns from his business trip, discovers his wife's infidelity, and beats her—but Sergei emerges from hiding and helps her strangle Zinoviy. At Sergei and Katerina's wedding, Zinoviy's corpse is discovered and the couple is arrested. Sergei blames Katerina and loses interest in her; on the march to Siberia, he takes up with another prisoner (Sonyetka) and cruelly tricks Katerina into giving Sonyetka her wool stockings. Katerina kills Sonyetka and herself.
In Andreas Kriegenburg's production, Katerina's bedroom has the sterility of a hotel. She is alone but without privacy. Her room and her husband's office slide out of the set's walls—sometimes leaving a gap between them, but sometimes enabling Boris or Zinoviy to step suddenly into her space. The gritty texture of the outdoors is projected, and the outlines of the buildings and stairs waver when Katerina dreams. She finds herself in shaky worlds, at first full of couples having sex and later full of accusatory Boris clones. The similar fragility of her waking world is obvious.
There's a realism to Katerina's desperate hopelessness that contrasts with the satirical portrayal of the figures around her. At the end of the first act, she keeps reaching for Sergei, only to find he is not even looking at her. There's a disconnect between the lovers. Katerina's isolation is made clearer by the buffoonery of the other characters. Boris is a stock villain, kicking a peasant down the stairs, threatening to whip a beggar child, and maintaining his sense of superiority with a heavy dose of cologne. The police also get the comic treatment: they all indulge in artistic hobbies (painting, knitting, needlework, cooking) and show a remarkable lack of coordination (dropping their batons, ironing another officer's fingers).
Katerina's final murder-suicide has touches of both the grim and the comedic. With a bribed guard preventing Sergei from interfering, she wraps a double noose around her own neck and Sonyetka's and drags her rival upstairs. They tumble over a balcony and hang—a horrifying ending, but one so obviously choreographed that it provoked giggles among the audience.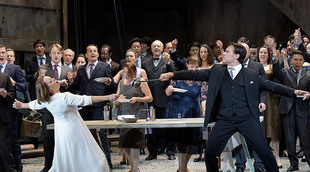 Nina Stemme, Brandon Jovanovich, Ensemble (c) Thomas Aurin
Nina Stemme sang Katerina in a piercing soprano. She would draw us in with soft notes and then let her voice ring, effortlessly filling the Festspielhaus. Her expressions and gestures conveyed her character's unbearable yearning. Tenor Brandon Jovanovich made for a strong, virile-sounding Sergei; it was clear why the sex-starved Katerina was immediately drawn to him. Jovanovich's voice especially soared in the opera's rare lyrical moments, when the vocal writing moved away from its mixed speech-song into brief, pure flights of legato melody. Maxim Paster underwhelmed as Zinoviy, his tenor frequently lost in the orchestral din. Dmitry Ulyanov sang Boris in an ominous, crackling bass.
In the smaller roles, Ksenia Dudnikova sang Sonyetka with a delicious, chesty mezzo, and Andrii Goniukov was a gravelly, expressive old prisoner. Stanislav Trofimov made a tottering drunkard of the Pope. Andrei Popov sang the grubby peasant in an energetic, exaggerated character voice. The large chorus showed off excellent coordination and dynamic range, especially as prisoners in the final act.
The loudest applause of the evening was for conductor Mariss Jansons. Under his baton, the Vienna Philharmonic emphasized the dissonances in Shostakovich's score. Explosive bursts of brass and percussion were almost painfully loud, and an infernal drive propelled the opera's (sometimes incongruous) dance music. The trombones deserve special mention for their vulgar music in the third scene, expertly delivered and far more sexually explicit than any of the action onstage.
This Lady Macbeth is not an uplifting night at the opera. Katerina's plight and actions are both horrifying, and the constant energy of Shostakovich's score can be exhausting. You must steel yourself for the experience, but the quality of the musical performances is worth the effort.
the 03 of August, 2017
|
Print