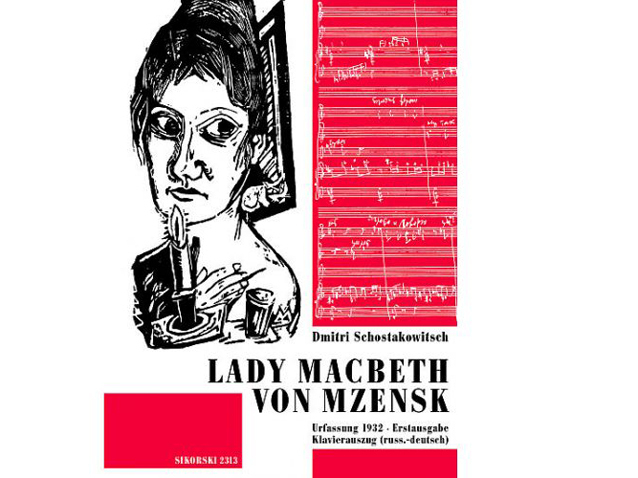 General informations
Composer:Dmitri Dmitrievitch Chostakovitch
Librettist:

Alexander Preis

Creation date:

1934

Creation place:

Russian federation

Acts number:

4

Original language:

Russian

Opera House of original production:

Théâtre Maly de Leningrad
Work description
A blistering attack, a punch in the gut, an opera that leaves an indelible brand on the imagination… Shostakovich wrote his masterpiece Lady Macbeth of the Mtsensk District, when he was barely 30 years old, a work that takes opera to new, intense and erotic heights. The heroine's unbearable loneliness, suffocating social conventions and love, burning with explicit sexuality, combine in a mixture of incendiary lyricism and excruciating irony. And what of Shostakovich's orchestra? A smouldering volcano. And the characters? They range from peasants to popes, from criminals to corrupt policemen, whose clutches gradually ensnare and crush the fragile Katerina, who is transformed with each scene into the bloody Lady Macbeth. When Stalin first heard Shostakovich's work in the 1930s, he walked out before the final scene. The following morning an anonymous article in Pravda condemned the opera as "chaos instead of music". Eighty years later, the modernism and brute strength of Lady Macbeth remain intact and attack the ear with the same aggressive power.
Summary
The action takes place in the 19th century, in provincial Russia. Katerina Izmailova is unhappily married. The wife of a wealthy merchant, Zynoviy, who neglects her, she dreams of love and a new life somewhere else. Despite a father-in-law who watches her every move and harasses her, she starts an affair with a handsome farm worker, Sergei. Yearning for freedom, Katerina's passion instead leads to crime: first, she poisons her father-in-law and then, with the help of Sergei, she kills her husband when he surprises the two lovers. Soon the couple's wedding plans go awry. On their wedding day a drunken guest finds the husband's body in the wine cellar. Katerina and Sergei are arrested and sent off to a prison camp. On the way, Katerina is abandoned by Sergei, who seduces a young convict, Sonyetka. Faced with this betrayal and a life without hope, Katrina throws herself in the icy waters of a frozen lake, taking Sonyetka with her to her death. Sergei continues on his way with the other convicts.
Act 1
Katerina is lonely and dreams of a different life. She has married a rich, but lacklustre, merchant, Zynoviy Ismaïlov, who neglects her. Moreover, her father-in-law, the tyrannical Boris, treats her with contempt. Her husband has gone off on a business trip and Katerina's is left daydreaming. She has noticed the handsome farm worker, Sergei, who tries to seduce her... But what hope is there for happiness in this suffocating provincial town, where the people spend their time spying on one another? One can only dream of true love…
Excerpt: « Zherebyonok k kobylke toropitsa »
One night Sergei comes to Katerina's room. After an altercation in the afternoon, he would like to know more about her…Afraid of being seen, and fearing her father-in-law, Katerina starts by rejecting her seducer. But she soon gives in, abandoning herself to Sergei in a torrid love scene, which Shostakovich depicts with power and realism.
Act 2
Now that they are lovers, Katerina and Sergei plan to marry. But in order to become husband and wife they must resort to murder: first, by killing Boris, Katerina's father-in-law (adding rat poison to his mushrooms) and then Zynoviy, Katerina's husband, who has discovered their affair. In the end, the diabolical couple must pay for their crimes. A drunken peasant, invited to the wedding, accidently opens the door to the wine cellar where Zynoviy's body is hidden. This macabre scene is presented as a cruel music hall number.
Act 3
The peasant alerts the police, who arrest Sergei and Katerina and they are sent off to prison in Siberia. An old convict describes the open-air prison, a long tunnel strewn with human bones, covered with blood and ice.
Act 4
With his downfall, the cowardly Sergei has abandoned Katerina. He tries to seduce another convict, Sonyetka. The pair mock Katerina, who is shivering with cold and desperate. Petrified and frozen with pain, she cries out in the darkness. Suddenly she sees a vast frozen lake, grabs Sonyetka and drags her down into the icy water. The line of convicts moves on, barely disturbed by the disappearance of the two women.