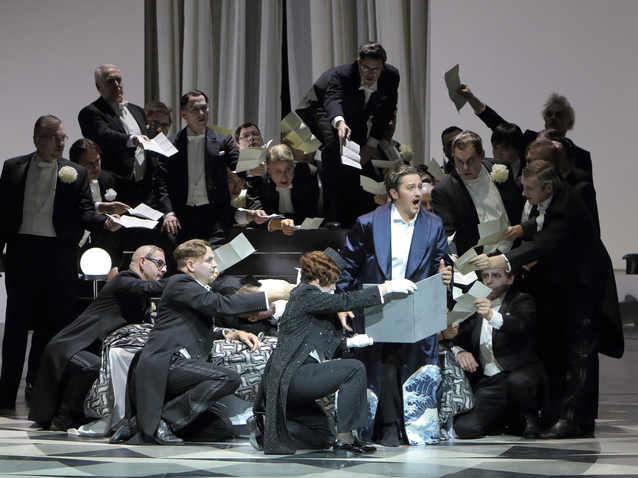 © Winfried Hösl
The Bavarian state opera continues its cycle of new productions of operas by Guiseppe Verdi. After Il Trovatore, Rigoletto and La Forza del Destino, it is now Un ballo in Maschera to get its new presentation, directed by the young German Johannes Erath. Being a talented musician originally, he started later to become a director and worked with Willy Decker and Peter Konwitschny.
Once more, the libretto of this fine Verdi opera is rather simple, clear and straight forward. This fast flow is respected by Johannes Erath and he tells the story without length and interruption, but lacks to follow the details pointed out by the text. He modifies the setting of all scenes and puts them in a kind of elegant reception hall of a luxurious house, in the style of the sixties, created by the stage designer Keike Scheele. A huge wide elegantly swung stair encloses the stage. Long white curtains symbolize transparent walls. Everything is dedicated to give the whole stage design a swinging dancing athmosphere, like in a Hollywood movie as High Society, apart from a huge black bed in the middle, representing the central tragic lovestory and the mortal bed. This having a counterpart high up in the air, and not having a real relation to the story on stage. Basically it is a clever setting and a moving aesthetic image, whereas further transformation lacks of a thorough and logical elaboration.
There are many little things happening on stage with no impetus on the plot, but causing distraction and cluelessness to the audience. The costums are elegant in the art deco style designed by Gesine Voellm, but without big inspiration. Men remain in their tailcoat, Riccardo acts mostly in his satin blue dressing gown, as Ulrica does as a blond vamp in an elegant long black dress.
More contours and profound confrontation with the characters and their conflicts is demonstrated in the orchestra pit. Back in Munich, Zubin Metha triumphs once again after having been the music chef here. Still, he gets a strong backing and hearty welcome by the audience. He develops a fine sculptured artistic image booklet by the music. The musicians remain very flexible and create all necessary differentiation of human feelings and emotions. The Waltz, the hidden rythm that moves is constant, the volume is mainly kept low, and the drama is the duty of the singers.
A well selected first class crew of world stars offer their talents and voices. Piotr Beczala demonstrates a young and distinguished Conte, a gentlemen and a filou. His tenor is soft, fully lyrical, of colour but weak up in the heights. Timidly, he sets his high tones, he slowly then opens to fill with his legato the big opera house. Anja Hateros as Amelia feels comfortable high up with her voice. As rarely set, she can flexibly move her voice up and down, and screw it without harshness high up in the air. Expressive and lyric, she approaches her husband, George Petean, for her final wish as he suffers and touches the audience with his warm bariton in despair and frustration about the intrigue of his beloved master. Okka von der Damerau has a beautiful voice but it does not really fit to the character of the mysterious Ulrica, based on the libretto. But here, she is a high society star, a glamorous lady in a 5 stars establishment which does not fit too.
Finally, it is a pleasure to listen and to look this evening and not to think too much about the original play and roles designed by Giuseppe Verdi and Antonio Somma. The audience is highly amused and affected by their beloved stars who again fulfill their expectations. Afterall, there is a long lasting ovation for Zubin Metha and the singers, with some denial for the director and his team.
Helmut Pitsch
the 11 of March, 2016
|
Print