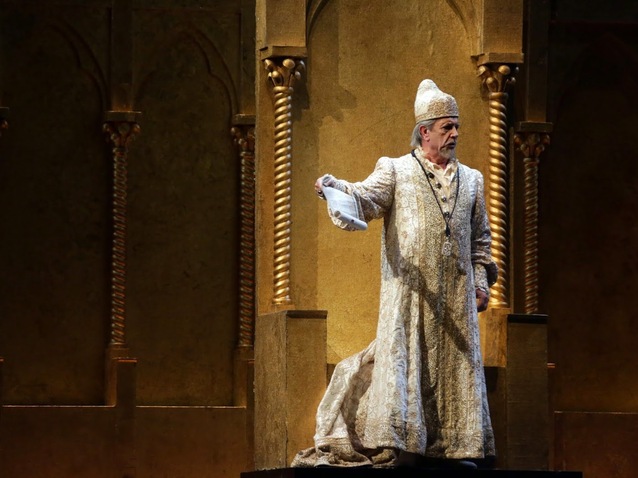 © Marco Brescia & Rudy Amisano
Simone Boccanegra accompagnied his creator Giuseppe Verdi for a lifespan. First presented in Venice in 1842 it was a failure. After mayor recompositions it became a success at its second premiere in 1880 which did not last long. Only in the seventies of the last century this masterpiece of Giuseppe Verdi found its way back to the stages of the opera houses. It is the exciting story of the Genoves Dogue Simon Boccanegra, his forbidden love affair with Maria, daughter of the mighty noble men Jacopo Fiesco, his political career and the rediscovery of his lost daughter Amelia, granddaughter of Fiesco and her love affair with Simon Boccanegra's enemy Gabriele Adorno. A story full of emotion, hate, intrigue, love and dignity. Who can present the hero Simone better than a mature Bariton, with long stage experience. So the Scala presents for this new direction the two most reknown baritons, the Italian Leo Nucci aged 72 and Placido Domingo his real age to beestimed. They differ in their excellent interpretation of the elder statesman and father. Leo Nucci shows lots of emotion, is a caring father and ruler, Placido Domingo is the elder statesman, elegant, powerful and ambitous. Similar different their voices. Leo Nucci's bariton sounds still fresh and safe, full of warm timbre whereas Placido Domingo's tenor career is feasable even as a bariton. His voice lacks power and colour, romantic legato feel fragile. The cast around Leo Nucci comprises  brilliant Alexander Tsymbalyuk as Fiesco and Vitaliy Bilyy as Paolo. Carmen Giannattasio is a fine young silver Amelia, Ramon Vargas as her lover Gabriele Adorno remains colourless and strenous. Placido Domingo encounters a similar splendid Orlin Anastassov als Fiesco and a wonderful Fabio Sartori as Gabriele Adorno. A fine solid young Italian tenor. Tatjana Serjan Amelia lacks easiness and silver timbre.
Stefano Ranzani creates a very Italian, positive sound around the evening of Leo Nucci, well balanced in tempi and volume, Daniel Barenboim, Artistic Head of the Scala is thoroughly suppprting the singers and brings a rough, metallic Verdi with jumping volumes between piano and fortissimo. The direction of Frederico Tiezzi lacks creativity, a concept  and historic sense. The stage design is simple, boring with a last attemted effect of a big mirror being set over the dying Simone Boccanegra and his throne, reflecting the auditorium of the Opera house and the orchestra. The audience celebrates their stars of the evening.
Helmut Pitsch
the 18 of November, 2014
|
Print