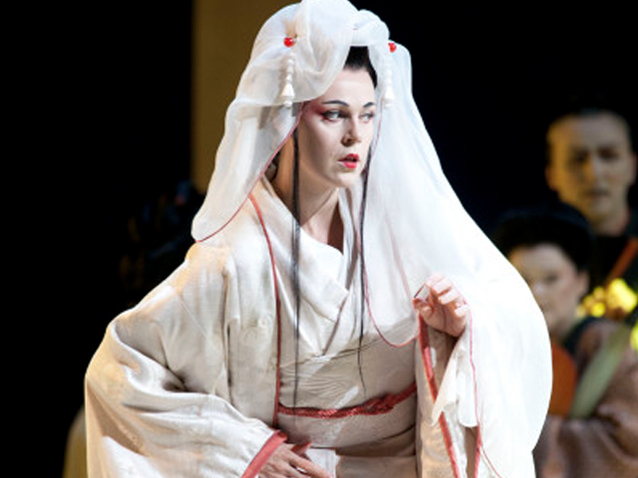 © Bayerische Staatsoper
Puccini's opera has always caused mixed feelings to the audience. Once it has been too much of a fairytale besides a real political and social theme, once it has been musically flat. Nevertheless this is a masterpiece of Italian verismo and musically demanding for all the participants, thus to explore once more at the Bavarian State Opera.
Based on a very traditional long played direction of Wolf Busse, scene by Otto Stich - this repertoire spectacle was awaited for its cast. After her recent success here in Manon Lescaut, Kristine Opolais returns as the unguilty naive loving 15 years old Cio Cio San. Her skillful play is again convincing as a caring Geisha and a desperate mother. Her suicide does not lack of painful matter. Her soprano voice shows dramatic power which she tries to tame. Her height is firm and darkly glittering.
Joseph Calleja was replaced by the young Polish Dmytro Popov as Pinkerton. His beautifully clear and easy tenor voice brings a warm and young loving character. In duets, he seems to force his fortissimos. Again, Markus Eiche is a secure and colourful Sharpless. Okka van der Damerau gives a lot of personal interpretation and emotion to her Suzuki, showing her competence as a member of the Munich ensemble.
In the orchestra pit, Stefano Ranzini pushes the orchestra with discipline to a dramatic speedy play, whereas the full sound of romantic and harmonic instrumental overloads of the composition remains rare. At the end, a hearty but short applause is given by the audience.
Helmut Pitsch
the 05 of March, 2015
|
Print