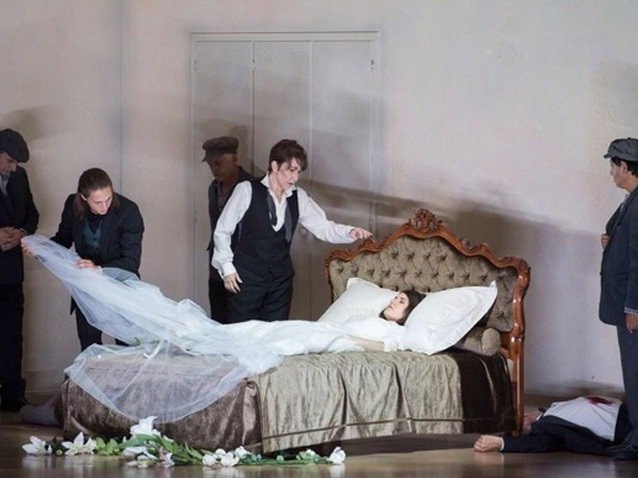 It is starting soft and intimate, transparent, and the melodic intonation is kept in chamber music alike. There is no oversteering of volume or emotional outflow in the conducting of Fabio Luisi, musical director of the Zurich Opera House. Everything is said about the tragedy and melancholic fate of the plot, the heroic fight for love and the sweet moments of hope and confidence.
The scenic interpretation of the overture seems to be a three dimensional overflow on the fast turning stage, showing a silent movie-like scene of the past happening in the Capulets house. Christof Loy is the director of this new setting of Vincenzo Bellini's composition of Shakespeare's lovestory Romeo and Juliet. Named after their families, it is kept different by the libretto. It is the sory of Juliet's desperate fight between her love for Romeo and her duty and responsability next to her father. Romeo is the brave hero, who dares couragiously everything to be unified with his beloved Julia, which happens only by death.
Christof Loy is known for his psychoanalytical access to story and characters. Julia's emotional confusion is central to him, giving place for a detailed and expressive exposure with a destined and clever show on stage.
Olga Kulchynska and Joyce DiDonato appear like a perfect match in playing and singing. Both are good looking and well playing as well as equipped with marvellous voices. Olga Kulchynska's soprano remains fine and accurate overall, modulates with flexibillty and glides smoothly up and down. Joyce DiDonato is an exceptional mezzo with lyric and dramatic expression, she does not get sharp or dark nor feels cold. It is exciting to follow the development of the tragedy. It is touching to feel their despair and helplessly acting. It is amazing to follow their singing. Benjamin Bernheim, a young and very talented tenor with a silver light voice joins them as the young and hot headed Tebaldo. It is true and satisfying belcanto settled in a twenties like mafiadrama. The audience is thriled and jumps up to thank and honor everybody for their performance.
Helmut Pitsch
the 06 of July, 2015
|
Print