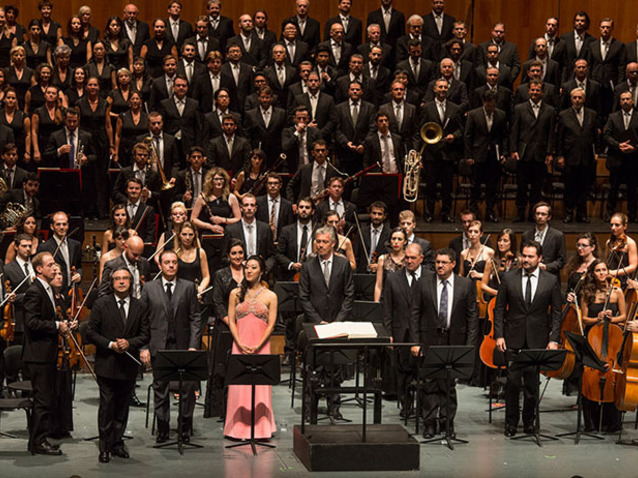 © DR
The final days of the prestigious Salzburg Festival still offer highlights, hosting highly regarded international classic stars and reknown orchestras, as Maestro Riccardo Muti and his Orchestra Giovanile Luigi Cherubini, founded in 2004, who appear with a concert version of Giuseppe Verdi's early opera, Ernani.
It is the touching lovestory of Ernani and Elvira and the heroic honorship of Ernani, fulfilling his deadly oath once he has succeeded in life. It is the puzzling story and complicated relation between the male characters, all of them seeking the hand of Elvira, that reflects onto the music. The composition shows a lot of Verdi's later mastership of lyric arias and intermezzi, but is still an example of young dramatic rebellion within heroic military marches in staccato and fast moving forward music. Riccardo Muti knows how to handle this wide spanned musical expressions in his fine and sensible conducting. The young and motivated musicians of his orchestra do follow with care his gestures, jump well prepared between heroic fortissimo and secret mysterious or cautious piano. The music opens into a broad range of feelings which accompany the singing.
Franceso Meli has taken over the part of Ernani. He carefully keeps an eye on his voice, a fine and safe tenor with a soft timbre. He fully opens the colour of his voice in the last act. Wide and romantic, Vittoria Yeo has a trembling and dark start as Elvira but does convince during the evening. Her soprano gains security and exactness in a charming flavored timbre. Once more, Giuseppe Verdi created wonderful arias and duetts for male voices. Luca Salsi as King Charles and Ildar Abdrazakov as de Silva join Francesco Meli in a triumphant battle between their voices, their competing political interests and amorous affection that develops to the pleasure of the audience. A short but intense applause at the end for all and a special ovation for Riccardo Muti, demonstrating his leading role in the interpretation of Verdi's music.
Helmut Pitsch
the 04 of September, 2015
|
Print