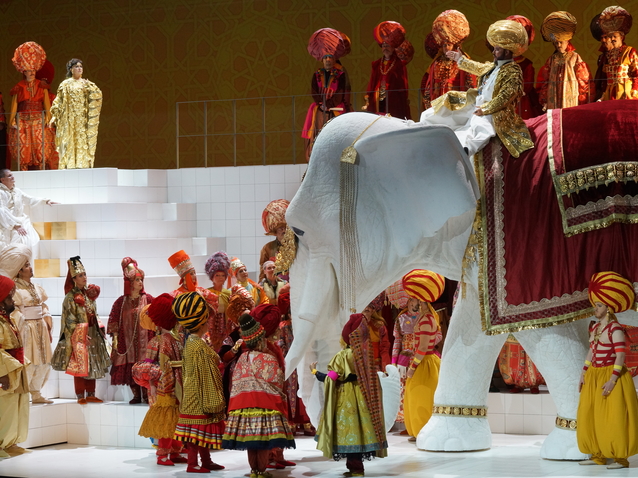 The Love of Danae is one of Richard Strauss masterpieces of the later period. He himself could not participate to the world premier in 1952 at the Salzburg Festival, after the original date in 1944 was cancelled at the same place due to the failed attack of Hitler. The opera in three acts is defined by the composer as a comedy of Greek mythology and consists of fine romantic music, in one big flow, missing arias or characteristic passages. So far, this opera did not achieve similar popularity as earlier operas by Richard Strauss, nevertheless, it is a wonderful example of his mastership.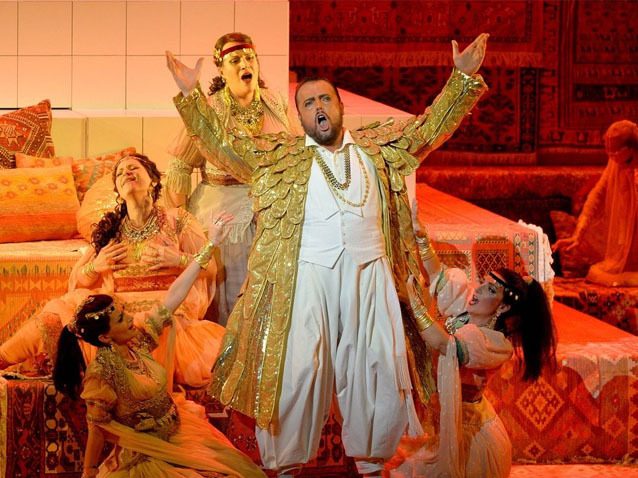 The story describes the true and immortal love of Danae, King Pollux's daughter. Originally dreaming of a rich husband to solve her father's financial problems, she falls in love with King Midas, who in a plot with the God Jupiter, conquers her love. By a kiss of Midas, Danae is turned into a golden statue by Jupiters magic and is acclaimed as his bride. Once back to life, Danae confirms her love to Midas, denying the court of Jupiter. Both Danae and Midas are cursed with poverty. Jupiters final attempt to win Danae is once more rejected and he leaves her with a moving admiring farewell.
Richard Strauss started to work on the theme with his genious libretist Hugo von Hoffmansthal, which was interrupted by the death of the second and finalized by Joseph Gregor. The music is a return to late romantic sound and harmony, puting aside modern disharmony or enharmonic dramatism, but even more, it shows melodramatic and architectural construction of instrumentation and chromatic expression.
Franz Welser Möst and the Vienese Philharmonic Orchestra present their musical interpretation of this monumental work. It is vivid, full of sound, the strings dominating in warm and voluminous flow. Soloist instrumentation is drawn back next to a strong orchestral conglomeration. This fits to the generous opulent artistic interpretation on stage.
Alvis Hermanis comes back to Salzburg as director and stage designer. Together with the genius Lithuanian costume designer Jouzas Statkeviicus (who created the most colourful luxurious oriental traditional costumes), light designer Gleb Filshtinsky and video designer Ineta Sipunova, he tells us his version of the Greek mythology as a picturesque fairytale, with an Art Déco style ornamental decoration. We are invited in King Pollux's court, full of Persian carpets and cushions, with golden walled rooms, ending up in the modest deserted environment of the peasant Midas and Danae in the last act. The huge stage of the festival hall is opened and we follow the lively action, ballet scenes enriching the rather simple story.
The numerous cast is well selected, dominated by Krassimira Stoyanova as Danae with her fine bright soprano, reaching up silver height with an exact intonation, and Tomasz Konieczny as the dark bariton, full of temper. Gerhard Siegel is an expressive Midas with some weaknesses and Norbert Ernst a safe Merkur. The choir is highly motivated, most probably by his unforgettable most beautiful costumes, and very present with its strong and well prepared voices. The audience seems highly affected by the performance of the musicians and the artistic voluminous presentation of the story. The creative teams receives a warm applause too. Once more, this very rarely presented opera returned successfully on stage, leaving the audience with unforgettable impressive images embedded in soft romantic sound.
Helmut Pitsch
the 02 of August, 2016
|
Print