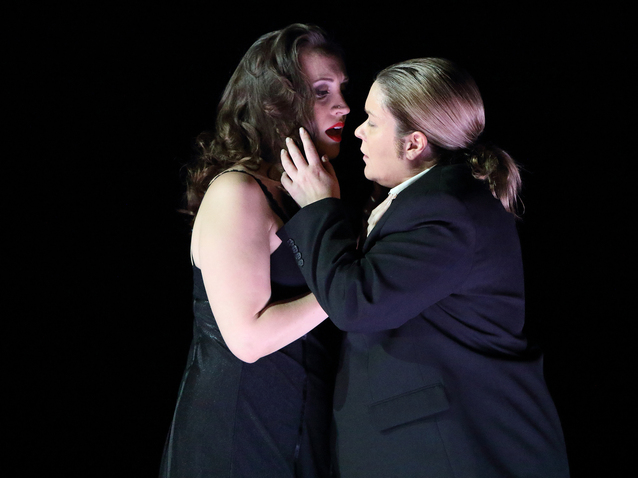 © Wilfried Hösl
The creation of Ariadne auf Naxos originally led to a novelty in music history. It was the desire to support the work of their friend Max Reinhardt that Richard Strauss and his genius librettist Hugo von Hoffmannsthal brought the intention to combine a play with a lyric opera in one piece. So, they brought together the drama by Jean Baptiste Molière Le Bourgeois Gentilhomme, enriched with ballett music and the Greek tragic story of the unhappy love of Ariadne, liberated by the god Bacchus. The combination did not survive in one piece but the later transformations into a symphonic suite and a full sized opera became both successful masterpieces of the composer in its class. The opera Ariadne lives by his contrasts which are skillfully brought together in perfect harmony. Opera seria meets opera buffo, epic drama meets commedia dell'arte.
The Canadian director Robert Carsen succeeds in demonstrating the clash of conflicts, human vanity and romantic feelings on stage, and to resolve them at ease. Everything seems to be real game like, fresh and new. Traditions are over board. There is no dimming of lights, no triumphant entry of the conductor. On stage, young dancers exercise and prepare themselves for a performance while the audience takes place. All of a sudden, in the fully illuminated opera house, somebody asks for music and all begins.
The story takes again and again place all over the audience room. The work inherited from the original version a chamber music-like character, and Robert Carsen implies this into its interpretation. It is exciting, intimate, touching from the beginning. Thanks to the vivid acting of all of the singers, the detailed elaboration of every scene with a good number of extra people on stage gains some flow and lot of life.
The two antipodes Ariadne and Zerbinetta are well designed and do not really clash together but appear more in a fruitful coexistence. Amber Wagner is a real Primadonna, implying her full body weight and charming voice. Pathos and color in her soprano contribute to a strong presentation. Brenda Rae clearly likes her role as the men eating widely admired Zerbinetta. Richard Strauss has put a lot of attention to this role, giving her the attractive coloratura aria as center piece of the opera. So it is no secret that everybody in the audience waits for it and the director has cleverly decorated the scene with eye catching effects like stripping men, or shiny red high heels hidden in a piano. Both women encounter their men. Ariadne will be rescued from her death seeking visions by the arriving Bacchus. Peter Seiffert comes back in this role to the stage where he has for years dominated as an unforgetable Lohengrin. His tenor is still soft, warm and full of timbre, with less flexibility and easiness. Zerbinetta gains the attraction of the composer shown by Alice Coote. Her Mezzo is packed with a dark color, strength and easy runs. Kyrill Petrenko has been recently chosen chief conductor of the Berlin Philharmonic Orchestra and his international reputation and position as one of the world leading conductors has been cemented. Since 3 years he is appointed chief conductor of the Munich State Opera and his rare appearance resemble top events for the classical enthusiasts of the Munich society. He has gained lots of good reviews for his work on German operas by Richard Wagner and Richard Strauss. His conducting of the evening is another example of his diligence and affection to the music of the late romantic repertoire. He makes hearable every note, keeping the orchestra transparent. Chamber music ambience combines with massive monumental orchestra sound without interfering. It seems easy where it is not at all. Tempi, volume and orchestral sound color are well selected. A lot of attention is given to the singers which are well conducted and embedded throughout the evening. Happy end on stage and for the audience showing its satisfaction with strong and long applause.
Helmut Pitsch
the 28 of October, 2015
|
Print