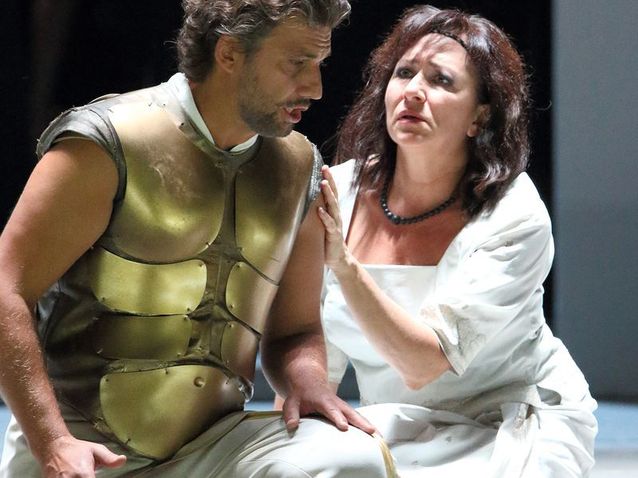 Munich and Jonas Kaufmann have been closely linked over the last years. He has been born here and the Munich State Opera is engaging him intensively. Many role debuts of the star tenor have taken place here. That is the case for the current production of Giuseppe Verdi's Aida too. After a first appearence in Rome in concert after a recording of the opera, it is now his first Radames on stage in a production from 2009, directed by Christoph Nel and designed by Jens Killian.
They have created a rather static interpretation with a lot of brutal war scenes, blood and less heroic egyptian court life. The presentation lacks of big mass scenes and remains in a colourless black and white monumental stage design with no decoration.
So most concentration remains on the protagonists of the evening, above all Jonas Kaufmann. It is once more his talent of acting which is impressive. Supported by an fashionable heroic costum, a golden cuirass, white trousers and a golden cape, the good looking star attracts immediately all the attention. In his play, he is not the arrogant victorious soldier, he is the caring lover, eaten up by his conflict between patriotic and human love. This psychological conflict is fabolous transported into his singing. His voice is characterized by a warm dark coloured timbre, which gets his full flavour in the lower and middle part. High up, his voice lacks of security and acurateness, which he bypasses once more with soft piani and emotion. Due to the fact that his first big aria ' celeste Aida' just happens to be at the very beginning, it is a hard setting for him without a real warming up.
The last two acts dominated by the duetts with Aida and Amneris succeed just beautifully. Krassimira Stoyanova is a lyric Aida with fine and safe height, very flexible and broad in modulating the colours of her voice. Anna Smirnova is an elegant self confident royal daughter but a loving and emotional woman too. Her voice is strong, clear but not sharp. So she can mix drama and lyrics.
Accompanied by Franco Vassallo as Amonasro and Ain Anger as Ramfis, the cast is well selected and the evening a real Verdi highlight.
A remarkable contribution by the perfectly prepared choir and the intelligently balanced conducting by Dan Ettinger, the musical director of the Mannheim Opera, accomplish the evening. The audience spends a long and warm applause with bravi for all and a special remuneration for their local star.
Helmut Pitsch
the 12 of October, 2015
|
Print