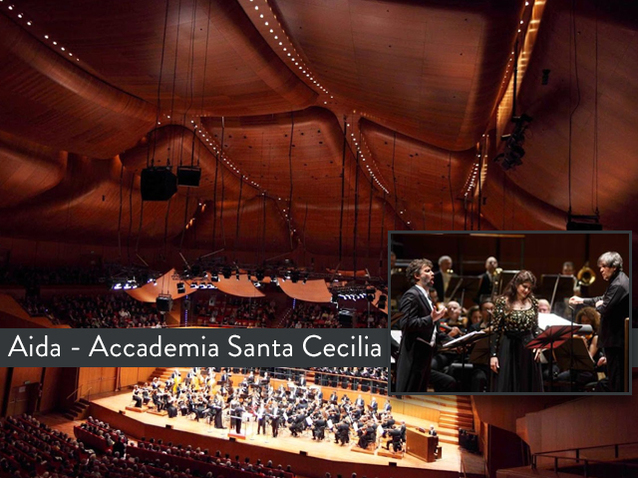 It is a highlight for the lyrical Roman society: Verdi' s masterpiece, Aida, in a concert version with an exquisite cast. Thanks to an album recording of the show, this cultural spectacle could happen in the Auditorio, Rome's new concert hall designed by the star architect Renzo Piano.
Sir Antonio Pappano, musical director of the Accademia Nazionale di Santa Cecilia heads the international reputable and leading Italian Philharmonic Orchestra. One can feel their symbiotic and trustful cooperation, and their identification to Verdi's national pride and sentimental expressions. The orchestra is fully present but remains clear, respectful and fine articulated among all the instruments. Maestro Pappano happens to transfer his waves of energy into the orchestra. It is a rare occasion to hear this musical treasure without any opulent action or any monumental stage design. This composition is full of colourful and elaborated orchestral intermezzi, and demanding singing to discover throughout this evening.
Anja Hateros returns again in a female principal role of Verdi. Her soprano is technically perfect, fine, exact over all. But this evening she does not suceed to touch and to express her emotional conflict between love for her father, her patria and her beloved Radames, hero and conqueror. The conquest which is on the side of Jonas Kaufmann. With some insecurities at the start, his Radames remains heroic, young and energetic, lyric and dramatic equally. The interpretation of Erwin Schrott as Ramfis is majestic and elegant. His voice has gained power, with a dark colour and some volume in depth. Marco Spotti is immaculated as Il Re. As his daughter Amneris, Ekaterina Semenchuk is technically perfect, she remains dramatic but without passion. Ludovic Tezier appears again as a fine bariton for Verdi.
Memorable and dominant is the exceptional performance of the choir of the Accademia Nazionale, well prepared by Ciro Visco. Due to its big presence, the choir brings a complete but well balanced sound, with some fine piani and well dimensioned forte. For the majestic and well beloved Gran Finale of the second act, also called "the triumph march", Sir Pappano has invited the Banda Musicale della Polizia del Stato. They contribute with their powerful play to fill all the space of the concert hall, impressing the audience with respect. Its up to the end of the performance for the audience to discharge with their typical Italian sense for drama and gesture. Hearty applause and honoring bravos merits this fine and high quality interpretation.
Helmut Pitsch
the 02 of March, 2015
|
Print