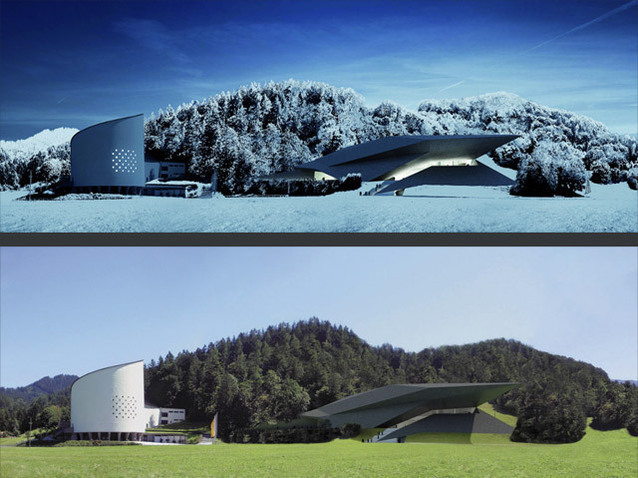 © DR
Opening of the new Festival House in Erl, Dec 26 th 2012
Over the last years Erl and the Tyrolean festival have established a highly regarded reputation as a very special hot spot for Wagner performances off the beaten track. Originally Erl is famous for the passion play of Jesus all 10 years. Like Oberammergau the whole population is participating, performing and celebrating all 10 years in remembrance of the pest which has heavenly beaten this area in 1613. So the tradition has come to its 400th anniversary next year. This little farming village opened their actual playhouse in 1959 designed by the well known architect Robert Schuller. It became soon home for the cultural life of the region as well as for international cultural life represented in the Tiroler Festspiele.
Now Erl is entering a next phase. To give a home to the festival and to extend the performing capacities and improve the artistic possibilities the wish of a real concerthall and operahouse was a central activity of the head and incarnation of the festival the well known conductor Gustav Kuhn.
With the foundation of Mr Haselsteiner, CEO and major shareholder of the international active and listed construction company STRABAG he found the ideal partner and sponsor. The foundation has paid for the construction worth 36 m € as well is contributing to the operational costs. The new festival house has been set up in a designated partnership to the existing white monolihic passion playhouse and the surrounding natural environment of green fields and dark forests. So it is set up in decent dark colors with an extended black roof. So in summer it should be well integrated in the dark dominating color of the surrounding forests and the white passion playhouse should landmark the festival as it can only be used in summer. Whereas in winter the black festival house is dominating and the white of the neighbouring passion playhouse is hiding in the hilly snowfield. A well balanced natural spectacle.
More spectacles we find inside. The new festival house hosts the biggest orchestra pit of the wolrd (160 sqm), gives place to up to 862 spectators.
All together we have 7000 sqm of space for visitors area, stage and festival administration.
The Viennese architects Delugan and Meissl are responsible for the artistic design as well as the acoustical outstanding performance.
The inauguration takes place on Dec 26 and the winter festival will last till January 6. It includes new productions of Il Nozze di Figaro by Mozart and Nabucco by Verdi. Besides concerts will bring symphonic and ecclestical work by Rossini, Bach, Bartok and others.
the 20 of December, 2012
|
Print