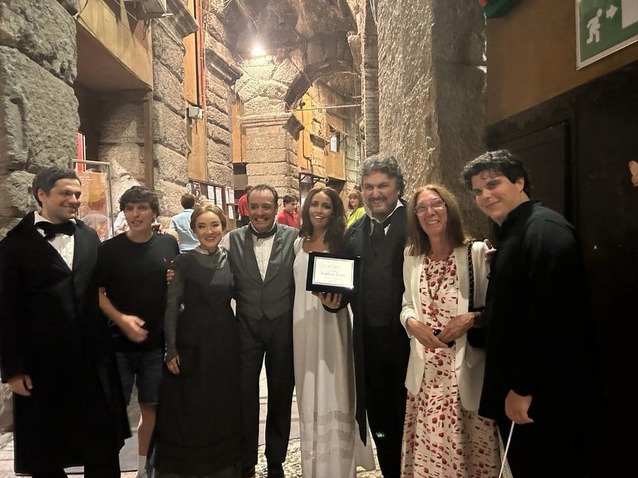 © Piero Cappuccilli Foundation
Following the performance of La Traviata at the Arena di Verona on 26 August, Ludovic Tézier was awarded the Premio internazionale Piero Cappuccilli (the Prize Piero Cappuccilli), named after the Italian baritone Piero Cappuccilli, an incomparable artist in the Verdian repertoire who sadly died in July 2005. The award was presented to the French baritone by the singer's daughter, Patrizia, to the applause of all the performers in the production.
Writing on his Instagram page, the singer said:
"More than an immense honour, a real emotion to share with my dear friends on the occasion of this beautiful Traviata in Verona! More than often I think of Piero the Great. Thank you, dear Patrizia, not only for this prestigious award, but also for our meeting. You are a beautiful person. Your father is with you. My best wishes to this beautiful and important foundation, which is dedicated to the great Piero Cappuccilli and to the Italian singing school at its best! Long live Piero, long live Verdi, long live Italy!"
Created by the Piero Cappuccilli Foundation, the prize of the same name aims to honour the great interpreters of Italian song. The first edition in 2019 honoured Leo Nucci, and after a year's interruption due to the pandemic, Luca Salsi was the winner in 2021 and Plácido Domingo in 2022. Ludovic Tézier succeeds them for the 2023 prize.
the 29 of August, 2023
|
Print