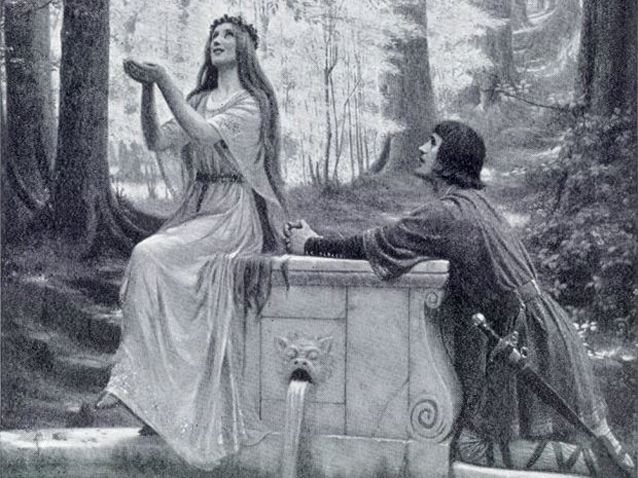 © Edmund Blair Leighton
General informations
Composer:Claude Debussy
Librettist:

Maurice Maeterlinck

Creation date:

1902

Creation place:

France

Acts number:

5

Original language:

French

Opera House of original production:

Théâtre impérial de l'Opéra de Paris
Work description
Claude Debussy's Pelléas et Mélisande is a unique, timeless work. It is a bit like its characters, who evolve in another world, lost in the mists of a never ending dream, set to a hypnotic music that serves as a blurry mirror image of it. When he wrote it, Debussy asserted it is "an opera after Wagner, not inspired by Wagner". The composer faithfully follows the plot of the Symbolist play penned by Maurice Maeterlinck, which unfolds in a sensual and dreamlike atmosphere. The singing follows the rhythms of natural speech and symphonic interludes depict the opaque beauty of the imaginary kingdom of Allemonde. It offers five acts of continuous mystery and passion, infused with music that is not much more than a shimmering veil.
Summary
The story takes place in the imaginary kingdom of Allemonde, governed by the aged King Arkel. After meeting Mélisande, a fragile and mysterious creature, while hunting in the forest, Prince Golaud marries her without learning anything about her and then presents Mélisande to his half brother Pelléas. A secret bond forms between the two...is it love? Golaud starts to spy on Pelléas and Mélisande. First, he tells his half brother to stay away from his wife, but then becomes more threatening as he is devoured by fear and jealousy. Pelléas and Mélisande end up confessing their love for each other. As they kiss, Golaud surprises them and kills Pelléas with his sword as Mélisande escapes. In the presence of Arkel and Golaud, who is filled with remorse, the mysterious Mélisande gradually dies of an unidentified affliction. Golaud never finds out the truth about her relationship with Pelléas.
Act 1
While hunting in the forest, Prince Golaud encounters the mysterious Mélisande, a fragile and frightened girl. He soon marries Mélisande without learning anything more about her.
Act 2
Pelléas and Mélisande are heading to the Blind Men's Well. Mélisande palys with the ring offered by Golaud and loses it in the water. At the same time, Golaud falls from his horse. He is wounded. Golaud notices the wedding ring is missing. Golaud orders her to go and search for it. Pelléas will go with her in a frightening place where the shadow of death is lingering.
Act 3
In old King Arkel's castle, Golaud encounters his half brother Pelléas. Mélisande and Pelléas are instantly attracted to each other. Is this a childish game? Or the prelude to love? On his guard, Golaud overhears a conversation between Pelléas and Mélisande, who spend long hours together. In a somewhat threatening tone, Golaud tells Pelléas to stay away from Mélisande, who is expecting. As she combs her long hair, Mélisande sings an old song.
Excerpt: « Mes longs cheveux descendent »
Golaud's jealousy becomes dangerously obsessive. He questions his young son, Yniold, on Pelléas and Mélisande's relationship. What do they do when he is not around? Are they seeing each other? Do they talk? And what do they say? Golaud uses his son to spy on Mélisande's room and observe what she and Pélleas are doing. But Yniold panics when Golaud questions him more aggressively.
Act 4
Golaud's jealousy and anger get the better of him. As Pelléas says goodbye to Mélisande, the two finally confess their love for each other and kiss. But Golaud arrives on the scene and kills his brother with his sword. Mélisande escapes.
Act 5
While Mélisande has not been injured, she starts to gradually perish. Golaud, who is filled with remorse, wants to talk about what really happened between her and Pelléas. He begs her to tell the truth and gets angry with her when she is silent or gives meaningless answers. Did she commit adultery with Pélleas? Golaud - or anyone else for that matter – will ever know. Mélisande dies without answering him.