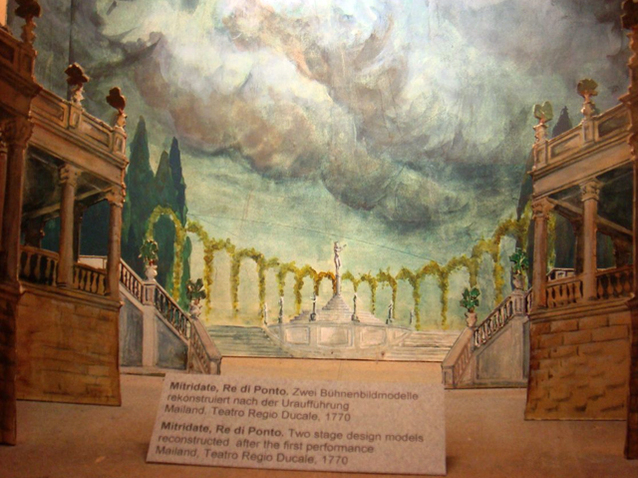 © DR
General informations
Composer:Wolfgang Amadeus Mozart
Librettist:

Amedeo Cigna-Santi

Creation date:

1770

Creation place:

Italy

Acts number:

3

Original language:

Italian

Opera House of original production:

Teatro Regio Ducal Milano
Work description
In 1770, when he was 14, the young Mozart travelled with his father Leopold to Italy. With a commission from Count von Firmian, he threw himself into creating lyric works and composed Mitridate, his first opera seria, with a libretto by Vittorio Cigna-Santi, inspired by Racine's eponymous tragedy. Despite constraints, in particular the singers he was forced to work with, he carefully adapted his writing to their vocal abilities, whether in expressing love or in conveying tragic sentiments. In this way he immediately dazzled the public and the critics through this harmonious blend of tender and melancholy passages and vocally dazzling arias. Crowned with this immediate success, he received a new commission for Lucio Silla. Unfortunately, the original manuscript has disappeared. But thanks to some additional copies, Mitridate was rediscovered and staged at the 1971 Salzburg Festival.
Summary
In northern Turkey, Mitridate, sovereign of the ancient kingdom of Pontus, and his two sons Farnace and Sifare, are all in love with the same princess, Aspasia.  She is promised to Mitridate who is leaving to battle Rome, but she secretly loves Sifare, who reciprocates her feelings. Farnace, the elder brother, decides to betray his father and ally himself with the Roman enemy. After the battle Mitridate, who is dying, pardons Farnace who has changed his ways, and blesses Aspasia's marriage to Sifare.
Act 1
Mitridate (tenor), King of Pontus, has left to fight Rome. He leaves his fiancée Aspasia (soprano) under the protection of his two sons, Sifare (soprano-castrato) the younger and Farnace (alto-castrato) the elder. Mitridate is declared dead. Farnace then declares his love for Aspasia, who pushes him away and takes refuge with Sifare, whom she loves. A dual rivalry of love and politics is then established between the two brothers, with Farnace deciding to ally himself with Rome to usurp his father's throne. Arbate (soprano-castrato), the king's counsellor, announces Mitridate's unexpected return. Defeated by Pompey, he returns accompanied by Ismene, daughter of the king of Parthia, whom he intends for Farnace so as to seal a new alliance. He reveals to his counsellor that he himself spread the rumour of his own death, in order to put his sons to the test. Arbate reports to him that Sifare has been faithful while Farnace, who is plotting with Rome and intends to wed Aspasia, has betrayed him. Mitridate swears to avenge himself.
Act 2
Mitridate's jealousy is heightened when Aspasia hesitates to marry him and Ismene admits that Farnace has rejected her. Alone together for a moment, Sifare and Aspasia declare their love for one another. But Aspasia is torn between her duty and her inclination. The king summons his sons and tells them he is leaving for the war. Farnace tries to dissuade him. Mitridate is then convinced of his treason. To defend himself, Farnace reports his suspicions about his brother. The king then sets a trap for his fiancée and pretends to break it off with her; he then asks her to choose between his sons. Without hesitating, she confesses her love for the younger one. The furious king swears they will die together.
Act 3
Ismene, who has forgiven Farnace, defends Aspasia to the king. Mitridate tells his betrothed that he will spare Sifare's life if she will swear to be faithful to him. But she refuses. The landing of the Roman troops forces the king to go off to fight. During his absence, Aspasia decides to poison herself, but Sifare prevents her, then sets out to join his father. Farnace, tortured by remorse, gives up his ambitions. Freed, he rushes to set fire to the Roman fleet. Mitridate, mortally wounded, forgives him and entrusts Aspasia to Sifare. The two brothers will fight Rome together.