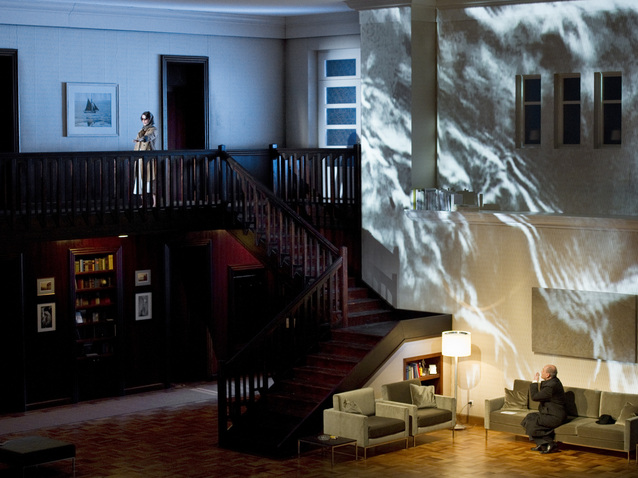 © Theater an der Wien
The Theater an der Wien is Vienna s 3rd and smallest  opera house. Having a great tradition it  has  recently been reactivated as a stagione theater. It has quickly built up a high reputation for sophisticated production and well selected casts.
Famous German director Claus Guth is responsible for this new production of Orfeo. He puts the story cleverly into modern high society. Orfeo is a successful entrepreneur  celebrating his wedding party in his luxury town house. His noble friends party extensively and come up in acient Greek style. Guths Orfeo is the center with his inner life and soul coming on stage. His admiration for Euridice, his joy, his pain his phantasies, his delusions and his depression. His crossing the river to the death is an image for his suicide. His delirium brings the reunion with Euridice and death to both. Thanks to a hearty play of all singers and especially of the wonderful Arnold Schoenberg choir, this classical tragedy comes colourful and charming alive.
The soft tenor with a tender melt of John Mark Ainsley as Orfeo brings fine baroque singing. Phillip Ens is a well set counterpart with his beautiful voluminous bass and inspiring play. Very convincing is Katija Dragojevic in her several roles as Musica, Messagiera, Speranza . Her dark soprano frames perfectly to the desperate story brought to life on stage.
The reputable Freiburger Barockorchester with their original instruments are certainly one of the finest ensemble specialised to baroque music. Conductred by Ivor bolton, their play and intonation is fragile, exact and maestoso.
the 22 of December, 2011
|
Print