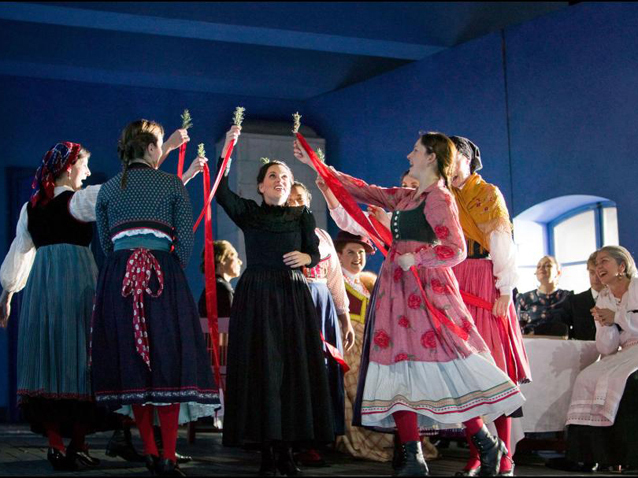 © Adrian Malloch
General informations
Composer:Leoš Janáček
Librettist:Leoš Janáček
Creation date:

1904

Acts number:

3

Original language:

Czech

Opera House of original production:

Národní divadlo Brno
Work description
At the dawn of the 20th century, the Czech operas of Leos Janacek represent a new and peculiar voice in the lyrical landscape, as if they had arrived to invigorate a repertoire naturally dominated by Italian, German or French works. Jenufa is the first masterwork of a composer who took many years to forge and develop his own language. Rather than wallowing in languorous romanticism, Janacek's music imposes its raw, abrupt strength, a form of aggressive realism, cloaked, nevertheless, in singular beauty and capable, through its poetry and astonishing economy of means, of capturing the slightest murmurings of the human heart. Through the folklore and music of his own language, dissected and melded by the orchestra and its melodies, Janacek reveals the authenticity and humanity of his characters with the power of a visionary composer. Thus, the rural drama of Jenufa becomes a universal tragedy.
Summary
The story takes place in a tiny village in Moravia, at the end of the 19th century. Social and family pressures are strong, particularly at the mill run by Steva, an inveterate drunk and skirt-chaser, who is the father of Jenufa's unborn child. But Laca is secretly in love with Jenufa and in a fit of jealousy slashes her face in order to disfigure her. Kostelnicka, the churchwarden's widow and Jenufa's stepmother, is the moral authority of the village. Yet she fails to convince Steva to take responsibility and marry Jenufa, who is no longer attractive in his eyes. The only solution for Kostelnicka is to "save" her daughter-in-law and kill the illegitimate child. She convinces Jenufa that her baby was stillborn and that she should marry Laca, who still loves her.  However, Kostelnicka's crime is discovered on Laca and Jenufa's wedding day. The baby's body is found in a stream and the powerful matriarch confesses publicly to the murder. Jenufa believes her stepmother acted out of love and forgives her before committing, full of confidence, to building a new life with Laca.
Act 1
In a tiny village in Moravia, where social and family relations govern behaviour, the churchwarden's widow, and Jenufa's stepmother, Kostelnicka, is the local moral authority. Laca loves Jenufa, but the latter loves Steva, an inveterate drunk, and is secretly pregnant with his child. When Steva gets drunk after news from the draft commission, Kostelnicka forbids him to marry Jenufa until he has been sober for one year.
Act 2
A few months pass. Jenufa has secretly given birth to Steva's child. But in the latter's eyes Jenufa is no longer attractive since Laca, in a fit of jealousy, slashed the young woman's face and disfigured her. In an effort to save face in a stifling society, and find a spouse for Jenufa, whose reputation has been ruined, Kostelnicka tells Laca that Steva's child is dead. Therefore he can marry Jenufa, who he still loves. This is a lie, of course, but one that Kostelnicka must now make true. While Jenufa lies sleeping, she takes the baby away and drowns it. When Jenufa wakes up she looks for her baby and begs to see it.
After killing the baby, Kostelnicka convinces Jenufa she has forgotten what has happened during the previous days. She insists the baby was stillborn and that Jenufa was delirious, laying unconscious for days on end. Wracked with pain, Jenufa humbly accepts God's will and, when Laca returns, she agrees to marry him. Kostelnicka is haunted by visions of her crime.
Act 3
Two months later, Laca is about to marry Jenufa and a chorus of village girls sings a wedding song – one of the rare folkloric choruses in the opera.
Excerpt: «Ej, mamko, mamko »
Just as Jenufa and Laca are about to be pronounced husband and wife, a shepherd enters and announces the body of a baby has been found in the stream, under the melting ice. Jenufa immediately recognises the baby's clothing. The villagers are about to accuse her of murder when Kostelnicka confesses she is the one who killed the child. Jenufa is horrified at first, but then, in a grandiloquent scene, forgives her stepmother, believing she acted out of love. Strong and confident, Jenufa tells Laca she has faith in the future.