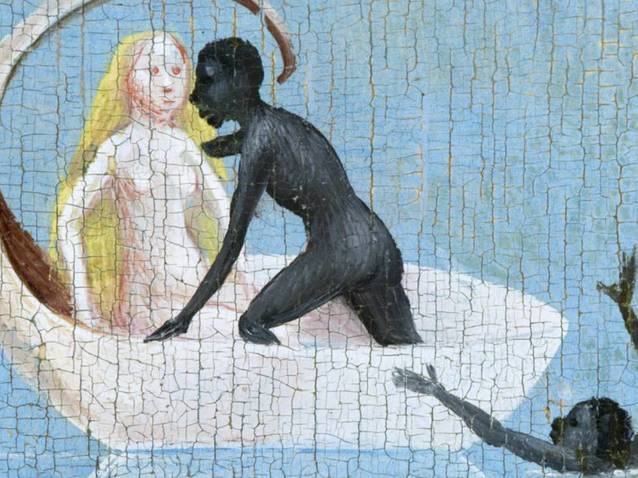 General informations
Composer :Vasco Mendonça
Librettist :

Dimitri Verhulst

Creation year :

2016

Creation place :

Belgium

Opera House of original production :

Concertgebouw de Bruges
Work description
The contemporary opera Bosch Beach was commissioned by the Jheronimus Bosch 500 Foundation to commemorate the 500th anniversary of the Flemish painter's death. Composed by Vasco Mendonça, the opera is based on a libretto by Dimitri Verhulst inspired by Jerome Bosch's painting The Seven Deadly Sins.
Bosch Beach premiered on 10 September 2016 at the Concertgebouw Brugge in a production by Kris Verdonck, performed by the Asko|Schoenberg ensemble. The creation of the work was conducted by Etienne Siebens. Rodrigo Ferreira (countertenor), Damien Pass (baritone) and Marion Tassou (soprano) take on the three roles of the work.
Abstract
The composer and the librettist take up this paradoxical situation symbolised by the beach of Lampedusa, and stage two men and a woman on holiday who here can freely indulge in drinking and the pleasures of life in complete recklessness, while at the same time and in the same place, others (migrants) struggle to survive and take sometimes foolhardy risks to have even the slightest chance of building a better life.
In Bosch Beach there is no narrative in the strict sense of the word, not even a concrete story. An additional difficulty for the composer, Vasco Mendonça, is the choice of the composition of two types of music, like two voices or two musical tracks. The first embodies the euphoria of the seaside holidays, the second the torment of those who are fighting for survival. A way of translating the paradox of the work through the composition. Different characteristic pieces follow one another (drinking song, prayer, cocktail, etc.), but the composer nevertheless respects the characteristics of the performers' tessitura in order to add psychological depth to the musical approach of the characters. Thus, the bass-baritone becomes a proud, selfish but lonely character, while the ethereal sound of the countertenor lends itself to ethical or spiritual questions, and the soprano, initially employed as an object of desire, eventually reveals itself to be the only real force in the work.
So, what would hell look like today? Where today is there a false paradise, a hidden hell on Earth? Sunbathing on the beach of Lampedusa while the refugees pour in could well respresent that. At the start of the piece, the trio plays on the ambiguity of the place and the questions (of guilt) it raises. The false paradise of the seaside resorts and the Boschian hell on Earth blend perfectly.
Rodrigo Ferreira | Asko|Schoenberg Ensemble, cond. Etienne Siebens
Marion Tassou | Asko|Schoenberg Ensemble, cond. Etienne Siebens