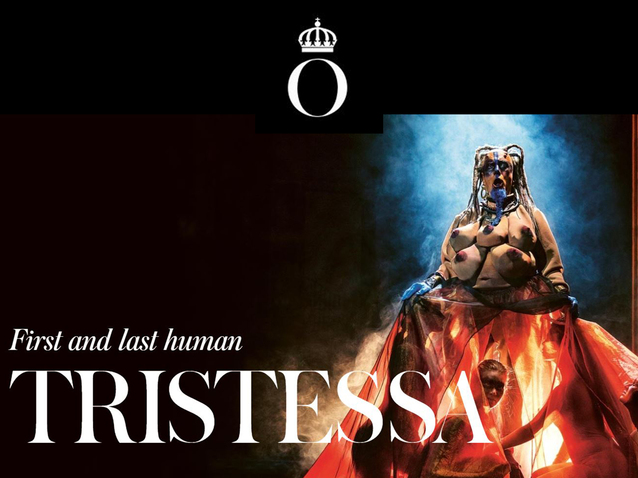 © DR
General Information
Production title:

Tristessa - Kungliga Operan / Royal Swedish Opera (Stockholm) (2018)

Creation date:

06/10/2018

Work - Composer:

Tristessa

-

Jonas Söderman Bohlin
Description
World Premiere.
Tristessa is an unattainable movie star. Evelyn is a young man who moves to a future, dystopian New York. There he meets Leilah, a prostitute with whom he starts a relationship. Leilah is also part of a female guerrilla fighter pack, led by the uber matriarch Mother. The fighters kidnap Evelyn and against his will he undergoes a sex change operation and is given the name Eve. After escaping from New York, Eve ends up in the harem of a man called Zero in the middle of the dessert. Zero, just like Eve, is obsessed by Tristessa and together they head for the film star's palace…
Tristessa is a newly written opera, created by a writer, video artist and composer to address gender roles and identity - and stir emotions. An adaptation of Angela Carter's cult novel The passion of New Eve from 1977, it boldly dissects primitive notions of gender with satire and fantasy. Angela Carter (1940-1992, UK) was one of the most important and influential writers of our time, known for her feminist- and magic realism and demythologization of modern life.
More information is available on the official website of the opera house.
Schedule
October 06, 2018 19:00:00
October 09, 2018 19:00:00
October 13, 2018 15:00:00
October 16, 2018 19:00:00
October 19, 2018 19:00:00
October 22, 2018 19:00:00
October 25, 2018 19:00:00
October 29, 2018 19:00:00
November 01, 2018 19:00:00
Casting
Johanna Rudström
Susann Végh
Johanna Rudström
Work's characters list
Director
Conductor
Leilah
Lilith
Eve
Evelyn
Nurse Sophia
Zero
Mother
Young Tristessa
Old tristessa