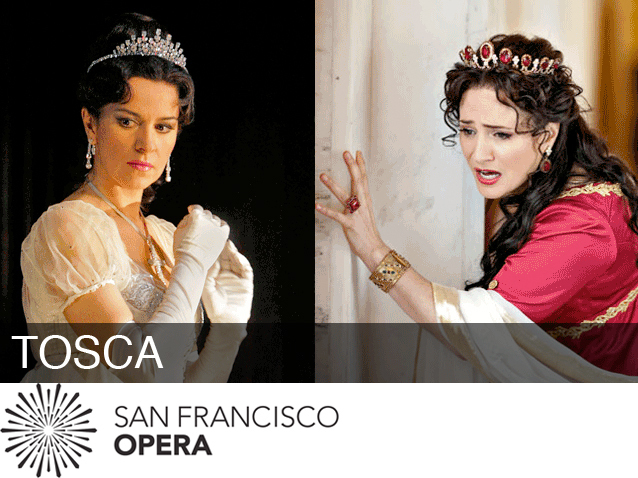 © San Francisco Opera
Description
Puccini's masterful melodrama is a sexually charged, edge-of-your-seat thriller, in which a great singer, a rebellious painter and a corrupt police chief engage in a deadly test of wills. Music director Nicola Luisotti, "one of his generation's most accomplished Puccini conductors" (Opera News), leads two astonishing casts.

One stars Angela Gheorghiu, "in a part she seems to have been born to play" (Opera Today) and "who, like Tosca, is a born diva" (The Independent, London); Massimo Giordano, praised by The New York Times for his "ardent, expressive singing;" and veteran baritone Roberto Frontali, who brought "vocal brass and weight" (The Dallas Morning News) to San Francisco Opera's The Girl of the Golden West (2010).

The next cast stars Patricia Racette, who "tapped into Tosca's combination of regal and all-too-human traits and backed up her vibrant characterization with singing of considerable expressive fire" (Opera News); tenor Brian Jagde, lauded for his "beautiful singing, now nuanced, now ringing and forceful" (Washington Post); and Mark Delavan (Wotan in the Ring cycle, 2011), a singer of "ferocious power" (San Francisco Chronicle).
Schedule
November 15, 2012 19:30:00
November 16, 2012 20:00:00
November 18, 2012 14:00:00
November 20, 2012 20:00:00
November 21, 2012 19:30:00
November 24, 2012 20:00:00
November 25, 2012 14:00:00
November 27, 2012 20:00:00
November 28, 2012 19:30:00
November 29, 2012 19:30:00
December 01, 2012 20:00:00
December 02, 2012 14:00:00
Casting
Mark Delavan
Ryan Kuster
Joel Sorensen
Dale Travis
Work's characters list
Conductor
Conductor
Floria Tosca
Floria Tosca
Mario Cavaradossi
Mario Cavaradossi
Scarpia
Scarpia
Cesare Angelotti
Spoletta
Sagrestano