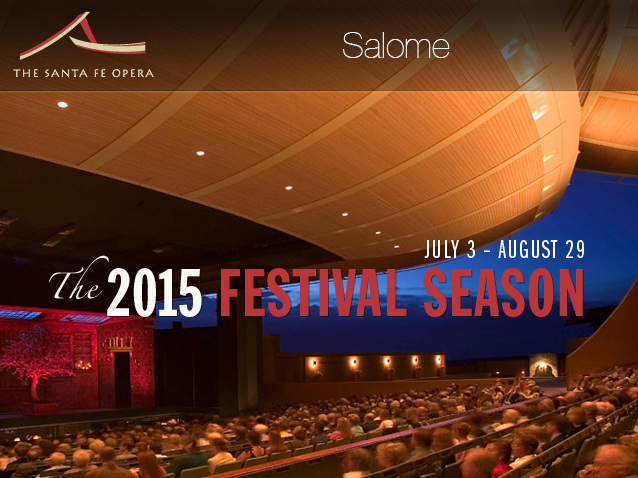 Description
New production
The operas of Richard Strauss have long been prominent at The Santa Fe Opera and Salome has been
performed no fewer than ten times since 1962. The searing one-act drama of obsession has mesmerized
audiences since its premiere in 1910. Salome will be sung by Alex Penda, Leonore in the 2014
production of Beethoven's Fidelio. Herod, who is consumed by lust for Salome, will be sung by Robert
Brubaker, last seen here in 2011 as the Captain in Wozzeck. The rising American bass-baritone Ryan
McKinny, in his Company debut sings Jochanaan, the object of Salome's lust. A product of Houston
Grand Opera Studio, he sings in leading opera houses in this country and Europe. Herodias, Herod's
vengeful wife, will be sung by Michaela Martens. Brian Jagde, 2012's Cavaradossi (Tosca), is Narraboth,
who loves Salome. The production is set at the time of the opera's premiere, 1910. Both sets and
costumes will be designed by the well-known British designer, Leslie Travers in his Company debut.
Conductor David Robertson, director Daniel Slater and lighting designer Rick Fisher, who were together
for the 2011 revival of Wozzeck, will do the honors for Salome. Robertson, one of the busiest and most
highly acclaimed conductors today, is music director of the St. Louis Symphony Orchestra.
More information is available on the opera house's official website.
Schedule
July 18, 2015 20:30:00
July 22, 2015 20:30:00
July 31, 2015 20:30:00
August 06, 2015 20:00:00
August 11, 2015 20:00:00
August 18, 2015 20:00:00
August 27, 2015 20:00:00
Work's characters list
Conductor
Salome
Herodias
Herodes
Narraboth
Jochanaan