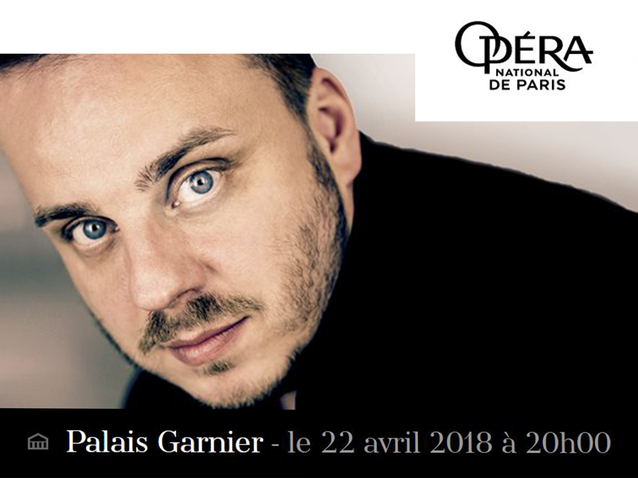 General Information
Production title:

Récital Matthias Goerne - Opéra National de Paris Palais Garnier (2018)

Creation date:

22/04/2018

Work - Composer:

Récital

-

Compositeurs divers

Opera house:Opéra National de Paris - Palais Garnier.
Description
Piano : Seong-Jin Cho.
Program :
Hugo Wolf
Wohl denk ich oft an mein vergangnes Leben
Alles endet, was entstehet
Fühlt meine Seele das ersehnte Licht
Hans Pfitzner
Sehnsucht, op. 10 No. 1
Ist der Himmel dann so blau im Lenz, op. 2 No. 2
Es glänzt so schön die sinkende Sonne, op. 4 No. 1
Wasserfahrt, op. 6 No. 6
Abendrot, op. 24 No. 4
Stimme der Sehnsucht, op. 19 No. 1
Nachts, op. 26 No. 2
An die Mark, op. 15 No. 3
Richard Wagner
Der Engel
Stehe still!
Im Treibhaus
Schmerzen
Träume
Richard Strauss
Traum durch die Dämmerung, op. 29
Morgen, op. 27
Ruhe meine Seele, op. 27
Freundliche Vision
Im Abendrot (Nr 4 aus "Four last songs")
More information is available on the official website of the opera house.
Schedule
April 22, 2018 20:00:00
Work's characters list
Interprète