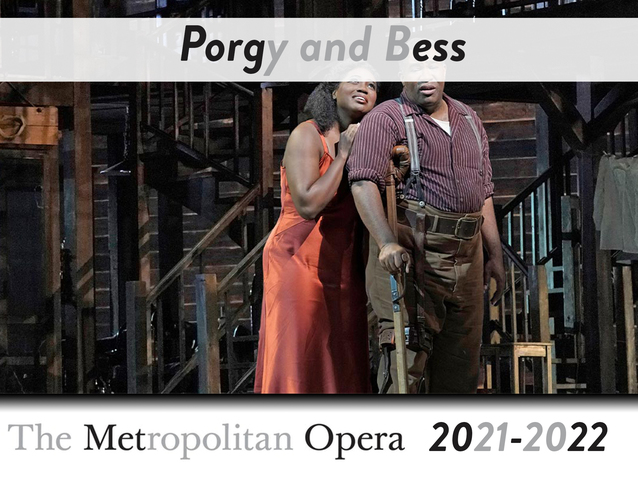 © DR
General Information
Production title:

Porgy and Bess - The Metropolitan Opera (2021)

Creation date:

11/10/2018

Work - Composer:

Porgy and Bess

-

George Gershwin

Opera house:The Metropolitan Opera.
Description
Revival of the production played in 2019-2020, in co-production with the English National Opera where it was given in 2018 (read our English column).
Shattering box office records when it premiered in the 2019-20 season, the historic staging of this American classic returns, with many of the original cast reprising their famous performances. Bass-baritone Eric Owens and soprano Angel Blue reunite to form the title couple, leading a stunning plateau, while John Wilson makes his Met podium debut.
More information is available on the official website of the opera house.
Schedule
October 31, 2021 15:00:00
November 03, 2021 19:30:00
November 06, 2021 13:00:00
November 10, 2021 19:00:00
November 13, 2021 13:00:00
November 18, 2021 19:30:00
November 21, 2021 15:00:00
November 24, 2021 19:30:00
November 27, 2021 20:00:00
December 01, 2021 19:30:00
December 04, 2021 20:00:00
December 09, 2021 19:30:00
December 12, 2021 15:00:00
Work's characters list
Director
Conductor
Porgy
Bess
Bess
Crown
Serena
Clara
Clara
Maria
Jake
Sportin' life