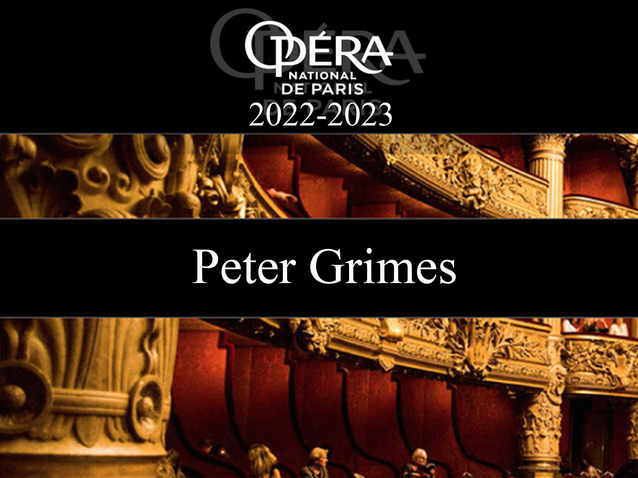 © DR
Description
New production.
January 23 is a "youth preview (-28 years old).
Co-production with the Royal Opera House Covent Garden in London, the Teatro Real in Madrid and the Teatro dell'Opera in Roma. We also reported on it in French when it was created in Madrid in 2021 as well as in English when it was revived in London in 2022.
Debuts of Deborah Warner, of Joana Mallwitz and of Allan Clayton at the Paris Opera.
More information is available on the official website of the opera house.
Schedule
January 23, 2023 19:30:00
January 26, 2023 19:30:00
January 29, 2023 14:30:00
February 01, 2023 19:30:00
February 04, 2023 19:30:00
February 07, 2023 19:30:00
February 11, 2023 19:30:00
February 14, 2023 19:30:00
February 19, 2023 14:30:00
February 24, 2023 19:30:00
Work's characters list
Director
Conductor
First Niece
Second Niece
Swallow
Ned Keene
Bob Boles
Reverend Horace Adams
Hobson
Peter Grimes
Ellen Orford
Auntie
Captain Balstrode
Mrs Sedley