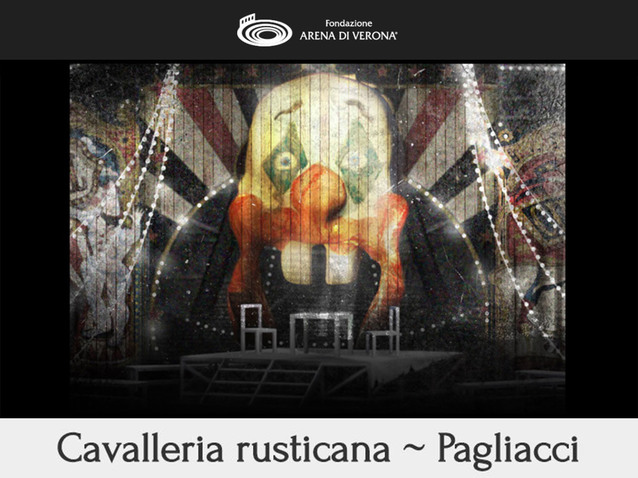 © DR
General Information
Production title:

Pagliacci - Arena di Verona (2020-2021)

Creation date:

13/06/2020

Work - Composer:I Pagliacci

-

Ruggero Leoncavallo

Opera house:Arena di Verona.
Description
New production.
Played with Cavalleria Rusticana.
Marco Armiliato directs the dates for 2021.
More information is available on the official website of the Arena.
Following the measures adopted by the government as part of the fight against the spread of the COVID-19 coronavirus, the festival had to cancel this production in 2020, and postpone it to 2021.
Schedule
June 13, 2020 21:00:00
June 19, 2020 21:00:00
June 26, 2020 21:00:00
July 03, 2020 21:00:00
July 08, 2020 21:00:00
July 17, 2020 21:00:00
August 08, 2020 20:45:00
August 13, 2020 20:45:00
August 22, 2020 20:45:00
June 25, 2021 21:00:00
July 02, 2021 21:00:00
July 22, 2021 21:00:00
July 31, 2021 21:00:00
August 14, 2021 20:45:00
Work's characters list
Director
Director
Conductor
Conductor
Tonio
Tonio
Tonio
Tonio
Beppe
Beppe
Beppe
Beppe
Nedda
Nedda
Nedda
Nedda
Nedda
Nedda
Nedda
Canio
Canio
Canio
Canio
Canio
Silvio
Silvio
Silvio
Silvio