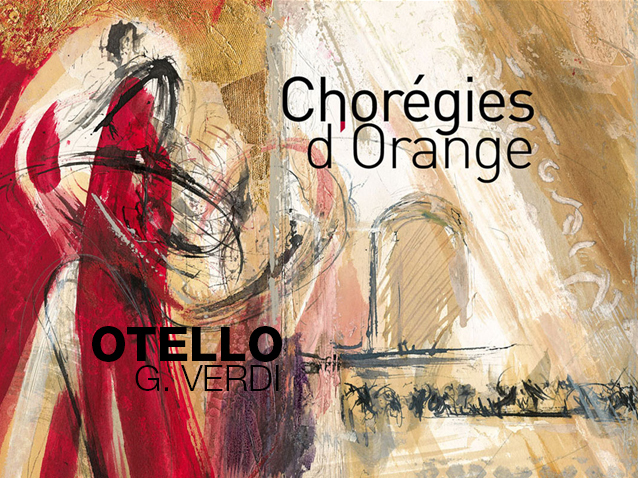 © Chorégies d'Orange
Description
Created at the Scala in 1887 with resounding success, Verdi's Otello, adapted from Shakespeare, tells the tragic story, the drama of jealousy, that pits against each other a Moor, Otello, who leads the Venetian army that has just defeated the Turks (it is Cyprus, a Venetian colony at the end of the 15th century), Iago, his ensign, Cassio, the commanding officer of the fleet, Desdemona, Otello's wife, and Roderigo, a nobleman in love with Desdemona. The opera originates in a collaboration of the composer with the poet-cum-musician Arrigo Boito. Shakespeare's theatre was a constant source of inspiration for 19th-century composers (Verdi of course, but also Berlioz or Gounod among others). This was the second time after Macbeth that Verdi was adapting one of his plays for the stage, the last being his last opera Falstaff. (His other work with Boito was on the latter's L'inno delle nazioni, which gave rise to a patriotic cantata created in London in 1862, and for the revising of his opera Simone Boccanegra.) Verdi worked on Otello, a drama of jealousy in four acts, for six long years, producing an absolute masterpiece. Boito gave Verdi a unique adaptation of the English playwright's work into the tongue of Dante, giving a fluid poetry that was ideally suited for his musical genius. And, above all, Verdi radically transformed lyrical art: giving up the isolated numbers of traditional bel canto, he offers music of great fluidity which, while preserving the beauty of arias, fully exalts the subtlety of Boito's text. Far from such things as a verism still in its early stages or as triumphant Wagnerism, Verdi set a new milestone for the lyrical theatre. Boito and Verdi have created characters with a psychology that goes much further than in any previous work, thanks to the musical continuity that underpins the plot, and to an outstandingly detailed and refined orchestration. Singers no longer suffice to fully render this work, required are authentic lyrical tragic actors—and such will be the singers selected for Otello's cast by the Chorégies d'Orange.
More information is available on the festival's official website.
Attend this production with our partner La Fugue - Europera.
Schedule
August 02, 2014 21:30:00
August 05, 2014 21:30:00
Work's characters list
Director
Conductor
Otello
Iago
Cassio
Lodovico
Montano
Desdemona
Emilia
Roderigo
Un Araldo