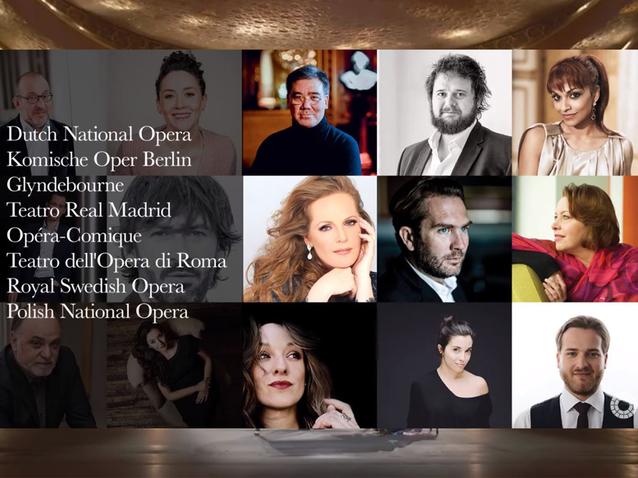 © DR
General Information
Production title:

OperaVision Summer Gala - OperaVision (2020)

Creation date:

21/06/2020

Work - Composer:

Récital

-

Compositeurs divers

Opera house:

OperaVision
Description
"OperaVision returns to the opera halls to offer you a live musical performance with its exclusive Summer Gala. On the stages of eight major European opera companies, renowned artists present a unique and entertaining program, hosted by Kasper Holten from the Royal Danish Theater in Copenhagen. "
Programming details:
Amsterdam, Dutch National Opera:
Eva-Maria Westbroek (soprano), Thomas Oliemans (baritone), Ernst Munneke (piano)
Berlin, Komische Oper
Alma Sadé (soprano), Barrie Kosky (piano)
Glyndebourne
Danielle de Niese (soprano), Allan Clayton (tenor), Matthew Fletcher (piano)
Madrid, Teatro Real
Damián del Castillo (bariton), Gerardo López (tenor), Ruth Iniesta (soprano), Patricia Barton (piano)
Paris, Opéra-Comique
Jodie Devos (soprano), Cyrille Dubois (tenor), Marine Thoreau La Salle (piano)
Rome, Teatro dell'Opera
Rosa Feola (soprano), Roberto Frontali (baritone), Enrica Ruggiero (piano)
Stockholm, Royal Swedish Opera
Nina Stemme (soprano), Alan Gilbert (musical direction), Inese Klotina (piano), The Royal Swedish Orchestra
Warsaw, Polish National Opera
Andrzej Filończyk (baritone), Katarzyna Sienkiewicz (piano)
More information is available on the official website of the website of OperaVision.
Schedule
June 21, 2020 19:00:00
Work's characters list
Interprète
Interprète
Interprète
Interprète
Interprète
Interprète
Interprète
Interprète
Interprète
Interprète
Interprète
Interprète