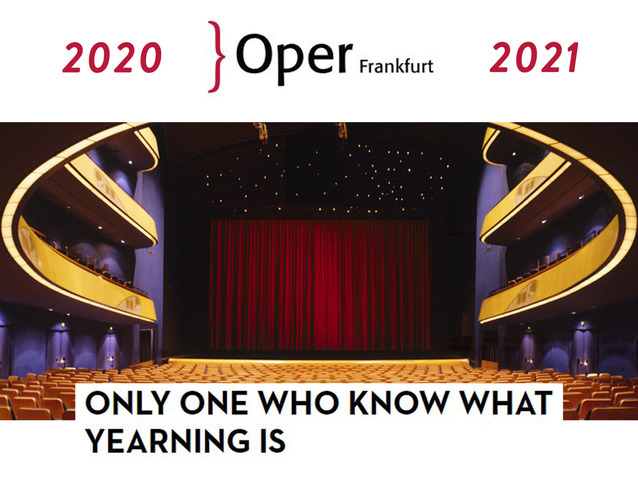 © DR
General Information
Production title:

Only one who know what yearning is - Oper Frankfurt (2021)

Creation date:

04/02/2021

Work - Composer:

Récital

-

Compositeurs divers

Opera house:Oper Frankfurt.
Description
Piano : Mariusz Kłubczuk / Nikolai Petersen
Tchaikovsky Lieder combine to create an intimate evening of theatre, exploring five people and their conflicting emotions: suppressed feelings of love are confronted with moments of snatched at ecstacy, the sadness about broken relationships leads to withdrawal and loneliness. This creates a new dynamic between the figures, in which they wear each other out, despise, love and idolise one another- but are constantly thrown back on their own devices.
More information is available on the official website of the opera house.
Following the measures adopted by the government as part of the fight against the spread of the coronavirus, the opera had to cancel the public performances of this production, but plans a streaming from March 26 at 7:30 p.m., available until June 25.
Schedule
February 04, 2021 19:00:00
February 07, 2021 15:00:00
February 07, 2021 19:30:00
February 12, 2021 19:00:00
February 14, 2021 18:00:00
February 20, 2021 19:00:00
February 26, 2021 19:00:00
Work's characters list
Ténor
Baryton
Baryton
Soprano
Mezzo-soprano