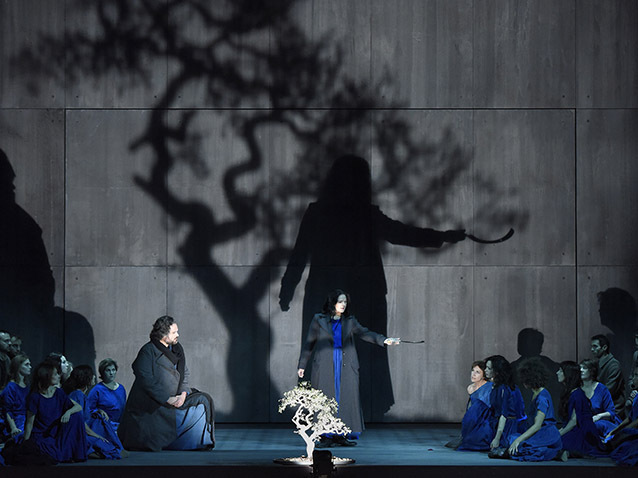 Description
New production
In 1831 Bellini was the rising star of bel canto. In the spring of that year La Sonnambula was presented in Milan followed by Norma, which was performed at the end of the year with the greatest singers of the time- Giuditta Pasta, Giulia Gasi and Domenico Donzelli. Initially people were taken aback by the opera but very quickly it was recognised as a major work. With Norma, Bellini transgressed the codes of Italian opera established by Rossini and heralded the great romantic forms of the coming years.  The divide between arias, duos and ensemble pieces is more fluid in Norma, which is characterized by a fluid musical texture where melodies and dramatic elements converge in vast frescos. As well as "revolutionising" traditional forms, Bellini wrote incredibly demanding roles. The opera's title role, known as one of the most difficult in a soprano's repertoire, demands perfect technical mastery together with the acting skill of a great tragic actress. The mythical aria "Casta diva" alone is a lesson in the art of bel canto singing, requiring breath, precision virtuoso vocal skills and no less than three high Cs!

The ensemble that has been put together for this extraordinary work is itself exceptional. Maria Agresta, the young Italian soprano, is one of the emerging prima donnas of Italian opera (her recent role in I Puritani at the Paris Opera was a triumph). Her vocal qualities across the whole soprano range (Norma demands that a soprano be equally at ease in the low pitch and in the high notes) and her acting abilities have established her reputation on the international stage this season. Her compatriot, the mezzo-soprano Sonia Ganassi, has nothing to prove in a role that she has sung many times, managing both emotion and technical mastery in a virtuoso performance. Stéphane Braunschweig's experience in the great operas of Wagner and Verdi has prepared him for this opera, where the drama of the intimate moment is played out on a grand scale.
More information is available on the opera house's official website.
Schedule
December 08, 2015 19:30:00
December 11, 2015 19:30:00
December 14, 2015 19:30:00
December 17, 2015 19:30:00
December 20, 2015 17:00:00
Casting
Sophie Van de Woestyne
Work's characters list
Director
Conductor
Pollione
Flavio
Oroveso
Norma
Adalgisa
Clotilde