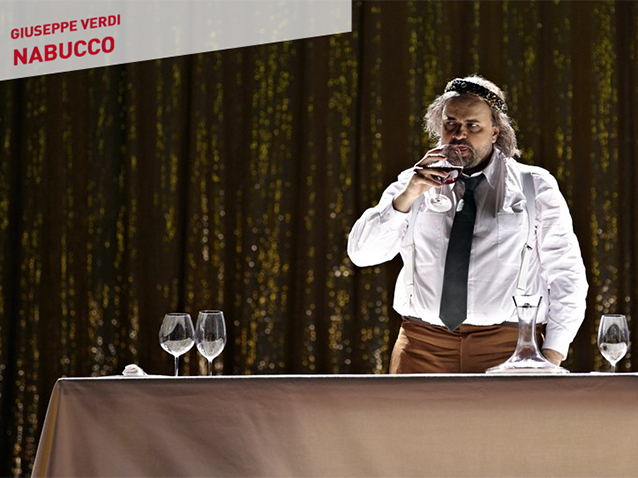 © Copyright all right reserved
Description
Co-Production with Welsh National Opera
Giuseppe Verdi's third opera Nabucco combines the Hebrew people's destiny, who suffer under the Babylonian conquerors and their leader Nabucco (Nebukadnezar), with the story of one single family. The opera also succeeds in depicting how strong a people's as well as an individual's need for social and religious identity is permeated by archaic forces and political calculation.
Nabucco's world premiere took place in 1842 at La Scala in Milano and strengthened Verdi's reputation as the leading opera composer of his generation.
Cast below is only for the November 28th 2013, except for Dimitri Platanias.
More information is available on the operahouse's official website.
Schedule
October 24, 2013 19:30:00
October 27, 2013 19:30:00
November 04, 2013 19:30:00
November 09, 2013 19:30:00
November 15, 2013 19:30:00
November 28, 2013 19:30:00
December 02, 2013 19:30:00
December 06, 2013 19:30:00
December 14, 2013 19:00:00
December 22, 2013 19:00:00
January 09, 2014 19:00:00
January 12, 2014 19:00:00
January 22, 2014 19:00:00
Work's characters list
Conductor
Nabucco
Ismaele
Fenena
Il Gran Sacerdote
Abdallo
Anna