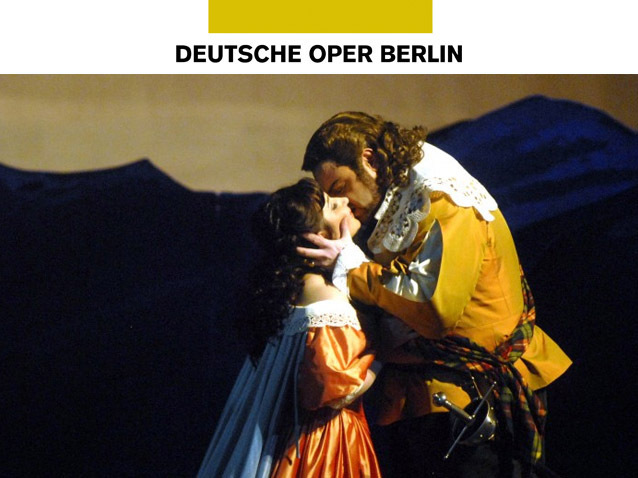 Description
Enrico wishes to marry off his sister Lucia to the mighty Lord Arturo Bucklaw in order to save himself from ruin. Lucia has sworn eternal loyalty to Edgardo Ravenswood, Enrico's mortal foe, who is citing ancient laws in support of his claim as the rightful owner of Enrico's lands. Enrico forges a letter in which Edgardo is accused of infidelity and Lucia held responsible for the family ruin. Enrico manages to persuade Lucia to marry Lord Bucklaw. Edgardo appears at the wedding and curses Lucia. She kills her husband. Edgardo challenges Enrico to a duel. Lucia is stricken by a madness that leads to her death. Upon hearing the death knell Edgardo stabs himself.
Based on Sir Walter Scott's famous novel of 1819 The Bride of Lammermoor, this is perhaps Donizetti's most popular tragic opera. In his libretto Salvatore Cammarano has chosen a radical path: not only has he relegated the politics of the conflict between the Ashtons and Ravenswoods to the background, and reduced the preceding events to hints in the dialogue; he has also limited the complex entanglement of relationships in the novel to the conflicts between Enrico Ashton, his sister Lucia and her lover Edgardo.
Director and set designer Filippo Sanjust's production is set around the period that the work was written (1835). An interim curtain depicting a billowing royal blue curtain and the ghostly, fluttering dress of a girl is the device used to suggest the romantic theatrical space. The stage images remind us of reprint editions of ancient tomes. The black costumes, red sashes, white collars, plumes and gauntlets of the Scotsmen form an opulent contrast and a befitting frame for one of the major works of Italian bel canto.
It was Maria Callas who gave a new lease of life to the works of Donizetti, works that had also been neglected in Italy. We know Callas' intense, vibrato-free expression of feeling from vinyl recordings. Just as she did for many roles in the high dramatic Coloratura genre, Callas set a benchmark for the interpretation of Lucia.
Extreme passions dictate the actions of the protagonists - on the one hand Enrico's hatred of Edgardo (Cavatina "Cruda … funesta smania'" Act 1), and of Lucia, who opposes his plans; on the other hand Lucia's love for Edgardo (Cavatina "Regna nel silenzio", Act 1). That this love will be Lucia's downfall is masterfully portrayed by Donizetti's music: the same Coloratura that describes how overwhelmed she is by love in Act 1 become indicators of her madness in her insanity aria at the climax of the opera.
Another moment of high emotional drama comes in the sextet "Chi mi frena in tal momento" in Act 2. Giacomo Puccini wrote: "In one respect we Italians surpass the German composers: we are capable of expressing immeasurable sadness in the Major Key. Edgardo and Lucia are in despair, so much so that Lucia finally goes mad and Edgardo commits suicide; and what do we find in the vocal part? Sugared plums! Honeyed sweetness! – Although Lucia is singing: "I have been abandoned by heaven and earth! I would cry, but there are no tears for me. Desperation consumes my heart." This sextet is rightfully seen as the most famous ensemble melody ever written for an opera – it is a polyphonic masterpiece …"
More information is available on the opera house's official website.
Schedule
February 01, 2015 18:00:00
February 06, 2015 19:30:00
Work's characters list
Conductor
Lucia
Sir Edgardo di Ravenswood
Lord Enrico Ashton
Lord Arturo Bucklaw
Raimondo Bidebent
Alisa
Normanno