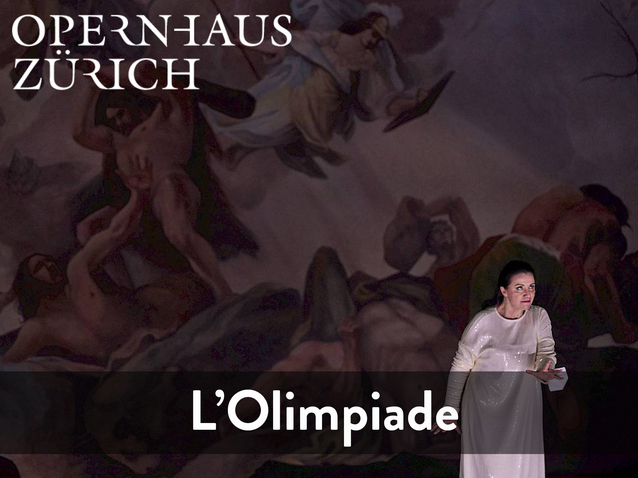 © DR
General Information
Production title:

L'Olimpiade (Pergolèse) - Opernhaus Zürich (2022)

Creation date:

12/03/2022

Work - Composer:

L'Olimpiade (Pergolèse)

-

Giovanni Battista Pergolesi

Opera house:Opernhaus Zürich.
Description
New production, which was originally due to premiere in 2020.
This Baroque opera project, which fell victim to the coronavirus lockdown just before its premiere last season, has a rather unusual musical-theatrical approach. It combines arias from Giovanni Battista Pergolesi's rarely-heard opera L'Olimpiade with a documentary film by Berlin-based stage director David Marton and Austrian filmmaker Sonja Aufderklamm. The film features Zurich's elderly residents as its stars. Marton is known for his exploration of innovative theatrical forms, and this production once again breaks new ground. It examines the relationships between sound, moving images, and the stage, between opera and reality, and between song and human destinies.
Aufderklamm and Marton visited elderly individuals, played Pergolesi's music for them, and spoke to them about the arias and the themes found therein. The music's wide range of emotions is combined with in their faces, their stories, and their poignant lived experiences. The artistic outcome is a heart-wrenching evening that came about during the coronavirus pandemic, when a vibrantly-staged Baroque opera was more of a dream than a self-evident reality. 
More information is available on the official website of the opera house.
Schedule
March 12, 2022 19:00:00
March 13, 2022 14:00:00
March 16, 2022 19:00:00
March 19, 2022 19:00:00
Work's characters list
Director
Conductor
Clistene
Argene
Licida
Megacle
Aminta
Alcandro
Aristea