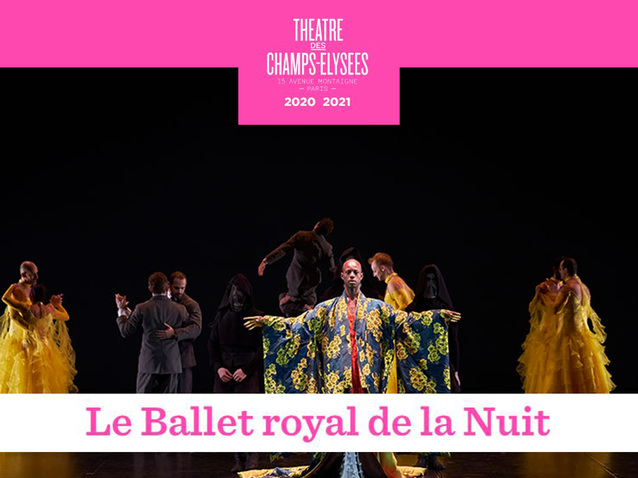 © DR
General Information
Production title:

Le Ballet royal de la Nuit - Théâtre des Champs-Élysées (2020)

Work - Composer:

Le Ballet Royal de la Nuit

Opera house:Théâtre des Champs-Élysées.
Description
Baroque fairy tale reconstructing one of the mythical festivals of the court of Louis XIV.
Music by Jean de Cambefort, Antoine Boësset, Louis Constantin, Michel Lambert, Francesco Cavalli, Luigi Rossi.
Cast :
Lucile Richardot | La Nuit / Vénus
Violaine Le Chenadec | Une heure / Cintia / Une grâce française
Caroline Weynants | Eurydice / Une grâce française
Ilektra Platiopoulou | Junon
Caroline Dangin-Bardot | Vénus / Le Silence
Perrine Devillers | Pasitea / Mnémosyne / L'Aurore
Deborah Cachet | La Lune / Déjanire / Une grâce française / La Beauté
David Tricou | Apollon
Davy Cornillot | Endymion
Etienne Bazola | Le Sommeil
Renaud Bres | Hercule
Nicolas Brooymans | Le Grand Sacrificateur
More information is available on the official website of the Theater.
Schedule
October 07, 2020 19:30:00
October 08, 2020 19:30:00
Casting
Caroline Dangin-Bardot
Work's characters list
Director
Conductor
Interprète
Interprète
Interprète
Interprète
Interprète
Interprète
Interprète
Interprète
Interprète
Interprète
Interprète
Interprète