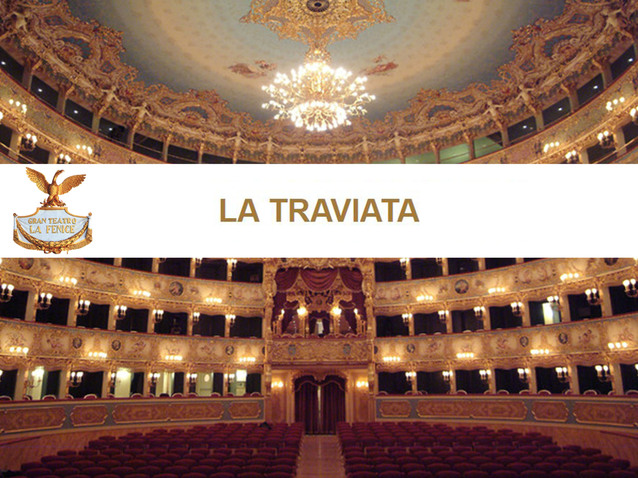 © DR
Description
Revival of the staging of Robert Carsen initially given in 2004 for the reopening of the room after heavy work following a fire. Patrizia Ciofi then held the role of Violetta.
Production has since been taken on multiple occasions, as for example in 2018.
More information is available on the official website of the opera house.
Schedule
January 04, 2019 19:00:00
January 05, 2019 19:00:00
January 13, 2019 15:30:00
January 20, 2019 15:30:00
January 26, 2019 15:30:00
January 30, 2019 19:00:00
February 01, 2019 19:00:00
February 03, 2019 15:30:00
March 27, 2019 19:00:00
March 28, 2019 19:00:00
March 29, 2019 19:00:00
March 31, 2019 15:30:00
April 02, 2019 19:00:00
April 03, 2019 19:00:00
April 05, 2019 19:00:00
April 06, 2019 19:00:00
October 24, 2019 19:00:00
October 25, 2019 19:00:00
October 26, 2019 15:30:00
October 27, 2019 15:30:00
October 29, 2019 19:00:00
October 30, 2019 19:00:00
October 31, 2019 19:00:00
November 02, 2019 19:00:00
November 03, 2019 15:30:00
Casting
Simone Albergini
Ilenia Tosatto
Work's characters list
Director
Conductor
Conductor
Conductor
Violetta Valéry
Violetta Valéry
Violetta Valéry
Violetta Valéry
Violetta Valéry
Alfredo Germont
Alfredo Germont
Alfredo Germont
Alfredo Germont
Alfredo Germont
Flora Bervoix
Flora Bervoix
Baron Douphol
Baron Douphol
Giorgio Germont
Giorgio Germont
Giorgio Germont
Giorgio Germont
Giorgio Germont
Annina
Annina
Marquis d'Obigny
Marquis d'Obigny
Dr. Grenvil
Dr. Grenvil