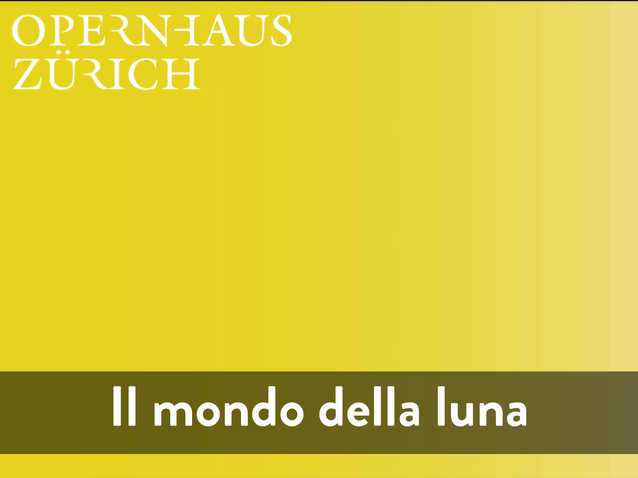 © DR
General Information
Production title:

Il mondo della luna - Opernhaus Zürich (2022)

Creation date:

05/05/2021

Work - Composer:

Il mondo della luna

-

Joseph Haydn
Opera house:Opernhaus Zürich.
Description
New production, which was to be premiered initially in 2020.
"Luna, lena, lino, lana, lana, lino, lunala / Burlicchete, burlacchete, brugnocchete e cucù". The moon has its own language, a lunar emperor, and rather liberal practices when it comes to romance. Bonafede, an amateur astronomer, was able to see this for himself some two centuries before Neil Armstrong's spectacular moon landing. In 1777, the curtain rose on the premiere of Joseph Haydn's Il mondo della luna, written for the princely wedding festivities at the Esterhazy castle. Joseph Haydn's last opera buffa, Il mondo della luna, was premièred during the princely wedding celebrations at Schloss Esterházy in 1777. Based on a comedy by Carlo Goldoni, Haydn's opera, which sparkles with musical inspiration, is an outlandish, ludicrous expedition into the infinite expanse of the imagination. But our Bonafede (whose name translates to "gullible") is the victim of a hoax: the charlatan Ecclitico and his friend Ernesto administer a sleeping potion and stage the lunar expedition in order to get their hands on Bonafede's daughters, whom he closely protects. In on the intrigue, his daughters assist the pair in leading him to believe that he has entered a lunar paradise. Changed by his experiences on the moon, in the end Bonafede himself tries to bring the couples together.
This International Opera Studio production, which will again be premiered at the Theater Winterthur, will be staged by the young Japanese director Tomo Sugao and conducted by the promising young conductor Joseph Bastian, winner of the Neeme Järvi Prize at the Gstaad Menuhin Festival.
More information is available on the official website of the opera house.
Schedule
May 05, 2022 19:30:00
May 07, 2022 19:30:00
May 11, 2022 19:30:00
May 13, 2022 19:30:00
May 15, 2022 14:30:00
Work's characters list
Director
Conductor
Bonafede
Clarice
Flaminia
Lisetta
Ecclitico
Ernesto
Cecco