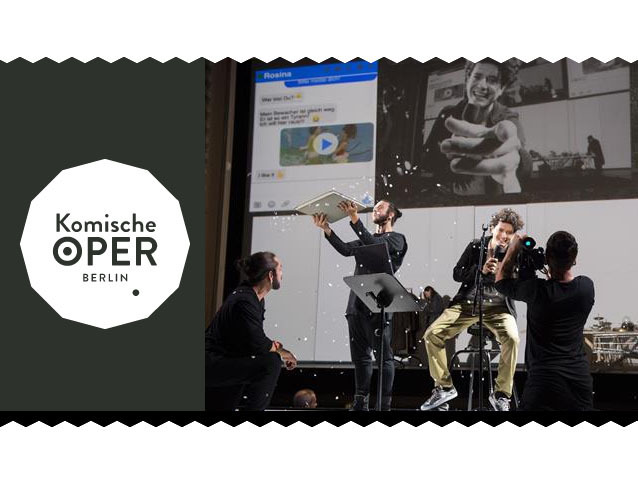 Description
Rossini's classic in the production by one of the most exciting contemporary Russian directors, Kirill Serebrennikov – with Tansel Akzeybek as the enchanting lover, Nicole Chevalier as the clever object of his desire, Philipp Meierhöfer as the not-very-bitter rival, and Dominik Köninger as the frantic factotum.
There are strange goings-on behind Doctor Bartolo's back! Recently, his ward Rosina – whom he plans to marry for her sizeable inheritance as soon as possible – seems to be secretly making new friends. A stranger is seeking to conquer Rosina's heart with self-composed songs and all manner of cryptic messages. Even Rosina long remains ignorant of the true identity of this mysterious admirer. But one thing is clear – anything is better than being forever chained to the fusty, grumpy Bartolo. And where there's a will, there's a way – no matter how strange.
Ever since the première of Il barbiere di Siviglia on 20 February 1816 in Rome's Teatro Argentina, Rossini's crazy barber has been racing to and thro – Figaro here! Figaro there! – with uninterrupted verve across the stages of the world. Hard-hearted scheming here encounters romantic yearning for love. Kirill Serebrennikov, the trail-blazing director of his generation in Russia, stages this classic as a modern game of hide and seek where everyone hides from each other and – above all – from themselves.
More information is available on the official website of the opera house.
Schedule
October 09, 2016 18:00:00
October 13, 2016 19:30:00
October 16, 2016 18:00:00
October 19, 2016 19:30:00
October 28, 2016 19:30:00
November 05, 2016 19:30:00
November 26, 2016 19:30:00
December 04, 2016 18:00:00
December 16, 2016 19:30:00
December 26, 2016 19:30:00
July 05, 2017 19:30:00
July 13, 2017 19:30:00
Casting
Denis Milo
Jason Steigerwalt
Work's characters list
Director
Conductor
Il Conte d'Almaviva
Figaro
Figaro
Basilio
Rosina
Fiorello
Un ufficiale