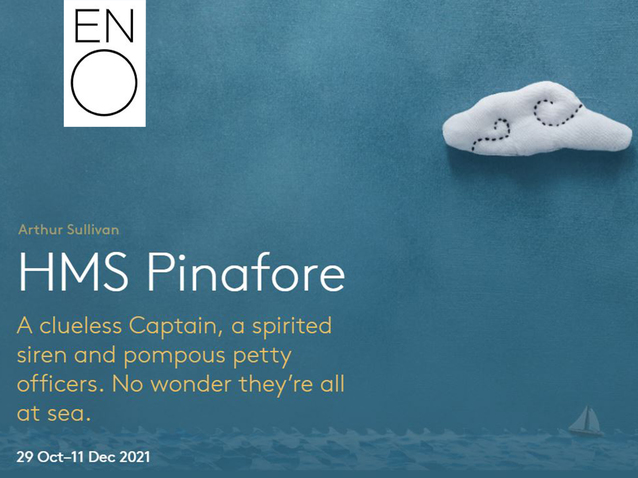 © DR
General Information
Production title:

HMS Pinafore - English National Opera (2021)

Creation date:

29/10/2021

Work - Composer:

HMS Pinafore

-

Arthur Sullivan

Opera house:English National Opera.
Description
New production.
Gilbert and Sullivan's comic opera HMS Pinafore is a hilarious tale of love, honour and duty.
Packed with absurd characters, unforeseen plot twists and a delightfully farcical finale, Pinafore is a satirical take on the British class system and the promotion of unqualified people to positions of power.
When Josephine, the daughter of Captain Corcoran, falls for the lowly sailor Ralph Rackstraw, she's torn between her heart's true love, and her desire to honour her father's wish for her to marry Sir Joseph Porter, the First Lord of the Admiralty.
More information is available on the official website of the opera house.
Schedule
October 29, 2021 19:00:00
October 30, 2021 15:00:00
October 30, 2021 19:30:00
November 06, 2021 15:00:00
November 06, 2021 19:30:00
November 07, 2021 15:00:00
November 12, 2021 19:30:00
November 14, 2021 15:00:00
November 17, 2021 19:30:00
November 18, 2021 19:30:00
November 20, 2021 14:00:00
November 27, 2021 15:00:00
November 27, 2021 19:30:00
November 30, 2021 19:30:00
December 03, 2021 19:30:00
December 06, 2021 19:30:00
December 09, 2021 19:30:00
December 11, 2021 19:30:00
Work's characters list
Director
Conductor
Sir Joseph Porter
Capitaine Corcoran
Ralph Rackstraw
Josephine
Little Buttercup (Mrs. Cripps)
Dick Deadeye
Boatswain
Hebe
Bob Becket