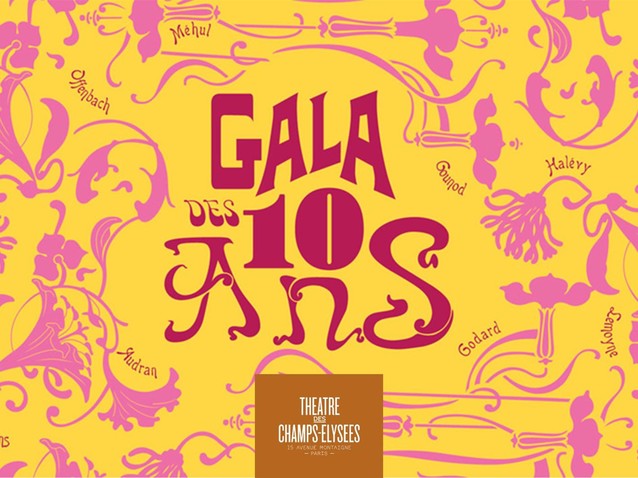 © DR
General Information
Production title:

Gala Palazzetto Bru Zane - Théâtre des Champs-Élysées (2019)

Creation date:

07/10/2019

Work - Composer:

Récital

-

Compositeurs divers

Opera house:Théâtre des Champs-Élysées.
Description
Gala given in honor of the 10th anniversary of the Palazzetto Bru Zane, to whom we owe the rediscovery of various French operas and operettas.
Program :
J. Offenbach Madame Favart, ouverture
J. B. Lemoyne Phèdre, air et choeur (acte III)
F. Chaudoir « J'viens de perdre mon gibus »
V. Joncières Lancelot, introduction, arioso et duo (acte I)
C. Gounod Le Tribu de Zamora, Danse espagnole (acte III)
F. Halévy Charles VI, Villanelle avec choeur (acte II)
C. Saint-Saëns « Extase »
F. Barbier Faust et Marguerite, Cavatine des bijoux, air de la bretelle et duo d'amour
E.-N. Méhul Adrien, duo et final (acte I)
E. Audran La Mascotte, duo (acte I)
G. Pierné Concertstück
B. Godard Dante, prélude et duo (actes IV et II)
Hervé Les Chevaliers de la Table ronde, air de la duchesse Totoche (acte I)
L. W. Lachnith Les Mystères d'Isis, final (acte I)
J. Offenbach La Vie parisienne, final (acte III)
More information is available on the official website of the Theater.
Schedule
October 07, 2019 20:00:00
Work's characters list
Conductor
Interprète
Interprète
Interprète
Interprète
Interprète
Interprète
Interprète
Interprète
Interprète
Interprète
Interprète
Interprète
Interprète