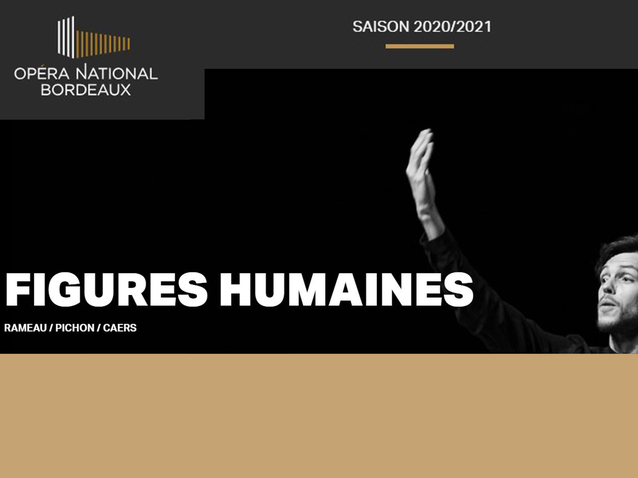 © DR
General Information
Production title:

Figures humaines - Opéra National de Bordeaux (2021)

Creation date:

17/06/2021

Work - Composer:

Figures humaines

-

Compositeurs divers

Opera house:Opéra National de Bordeaux.
Description
New production,
Lyric creation conceived by Raphaël Pichon and Gregory Caers.
Musical project imagined by Raphaël Pichon around extracts from Platée, Les Indes galantes, Les Boréades ...
Dancers from the "Human Figures" educational project.
After the recent success of the Miranda project around the music of Purcell, Raphaël Pichon and Pygmalion seize splendid pages of Rameau, taken from Platée, Les Indes galantes, Les Boréades, Zaïs, Naïs, Fêtes de l'Hymen and Amour, Fêtes de Polymnie, The Princess of Navarre, The Surprises of Love, Acanthus and Cephise ... Voices and period instruments offer a dizzying and unexpected image of the first half of the 18th century. Alongside a virtuoso cast, the public will discover dancers trained throughout the year as part of an educational and innovative device, all involved in the intense and poetic staging signed by Gregory Caers.
"Due to the persistence of health constraints, uncertainties as to the deadlines and modalities for reopening theaters and the budget deficit caused by the significant losses in ticketing revenue since the start of the pandemic, the Presidency and the Management of the Opera National de Bordeaux are forced to cancel this show ". A decision announced in January 2021.
More information is available on the official website of the opera house.
Schedule
June 17, 2021 20:00:00
June 18, 2021 20:00:00
June 19, 2021 20:00:00
June 20, 2021 15:00:00
Work's characters list
Director
Conductor
Soprano 1
Soprano 2
Ténor
Basse