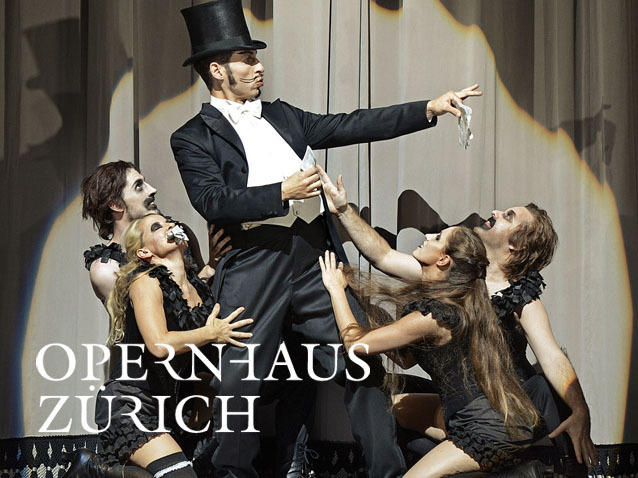 Description
To be given another chance, to be young again, to abandon oneself to pleasure once more! That is Faust's greatest wish. The devil appears to him and promises to give him all of this on the condition that Faust leave him his soul. The pact is made, and Faust launches into a passionate affair with Marguerite, whose innocence and naïveté attract him as much as her lower-class background, which he finds exotic. However, when she becomes pregnant, he prefers to abandon her. The deserted girl kills her baby and is executed.
Charles Gounod had contemplated making an opera out of Goethe's Faust since his youth. However, the French Faust has little in common with his German namesake. Gounod uses the Gretchen tragedy, which he treats very freely, to paint a precise portrait of the society of his day – the Second Empire, with its unscrupulously hedonistic attitudes. A portrait that in many ways bears an astonishingly similarity with the present day. Seen from this perspective, Gounod's most successful opera has considerably more to offer than a trivial, sentimental love story: it is an enlightening and alarming look in the mirror. In this revival, Michael Fabiano, who débuted at Zurich Opera House as Rodolfo in La bohème, sings the title role, his antagonist Mephistophélès will be performed – as at the première – by Kyle Ketelsen, and the soprano Anita Hartig can be heard in Zurich for the first time in the role of Marguerite. Faust will be conducted by Philippe Auguin, Music Director of Washington National Opera, who is a specialist in the French repertoire.
More information is available on the official website of the opera house.
Schedule
September 20, 2016 19:00:00
September 23, 2016 19:00:00
September 25, 2016 20:00:00
October 02, 2016 14:00:00
October 07, 2016 19:00:00
Work's characters list
Faust
Faust
Méphistophélès
Marguerite
Valentin
Wagner
Siébel
Marthe Schwerlein