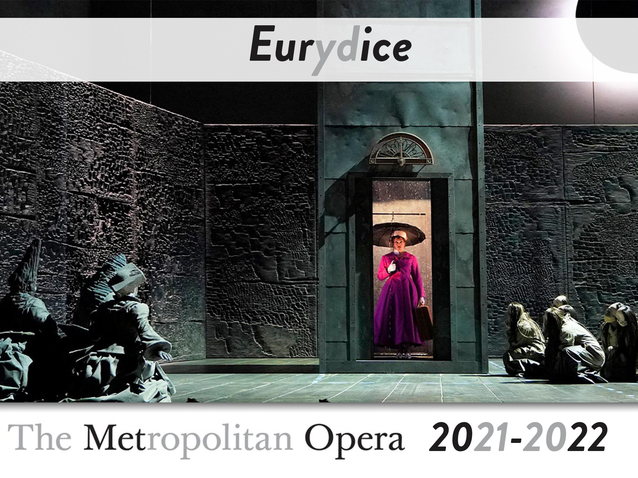 © DR
General Information
Production title:

Eurydice - The Metropolitan Opera (2021)

Creation date:

01/02/2020

Work - Composer:Eurydice

-

Matthew Aucoin

Opera house:The Metropolitan Opera.
Description
New production.
A product of the Met's commissioning program.
A co-production with the LA Opera, where it was created in February 2020.
"The ancient Greek myth of Orpheus, who attempts to harness the power of music to save his beloved Eurydice from the underworld, has inspired composers since the early days of opera. Burgeoning American composer Matthew Aucoin now carries that tradition into the 21st century with a captivating new take on the story. With a libretto by Sarah Ruhl, MacArthur recipient "Genius Grant", adapted from her famous 2003 play, the opera reimagines the familiar tale from Eurydice's perspective. Yannick Nézet-Séguin oversees the grand premiere of the Met from the podium, leading the evocative music of Aucoin and a new immersive staging by Mary Zimmerman. Soprano Erin Morley sings the title role, opposite baritone Joshua Hopkins as Orpheus and countertenor Jakub Józef Orliński as his alter ego from another world. Bass baritone Nathan Berg is the father of Eurydice and another resident of the underworld, with tenor Barry Banks as Hades himself."
More information is available on the official website of the opera house.
Schedule
November 23, 2021 20:00:00
November 27, 2021 13:00:00
November 30, 2021 19:00:00
December 04, 2021 13:00:00
December 08, 2021 19:30:00
December 11, 2021 20:00:00
December 16, 2021 19:00:00
Work's characters list
Director
Conductor
Eurydice
Orpheus
Orpheus's double
Orpheus's double
Hades
Father