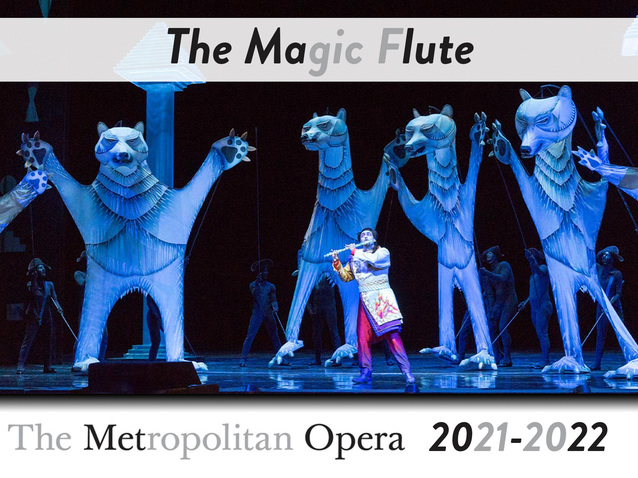 © Copyright all right reserved
Description
Revival of the production dating from 2004, repeated several times since, as in 2014, 2017, 2018-2019, and 2019-2020.
The abridged English version of Mozart's magical fairy tale is a classic holiday treat for audiences of all ages. A cast of personalities come together to bring the charming story and enchanting music to life, led by tenor Matthew Polenzani in brave Tamino and soprano Hera Hysesang Park in virtuous Pamina. Rolando Villazón makes an exciting debut as the lovable thug Papageno, alongside Kathryn Lewek as the dreaded Night Queen and Morris Robinson as her nemesis, the sage Sarastro.
More information is available on the official website of the opera house.
Schedule
December 14, 2021 19:30:00
December 18, 2021 13:00:00
December 21, 2021 11:00:00
December 23, 2021 11:00:00
December 27, 2021 11:00:00
December 29, 2021 11:00:00
January 01, 2022 19:00:00
January 05, 2022 19:30:00
December 10, 2022 19:30:00
Work's characters list
Director
Conductor
Sarastro
Sarastro
Tamino
Tamino
Sprecher
Die Königin der Nacht
Pamina
Papageno
Papageno
Monostatos