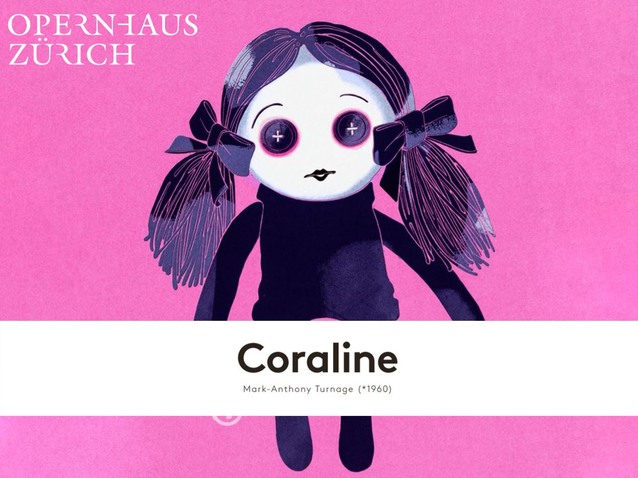 © DR
General Information
Production title:

Coraline - Opernhaus Zürich (2019-2020)

Creation date:

16/11/2019

Work - Composer:

Coraline

-

Mark-Anthony Turnage

Opera house:Opernhaus Zürich.
Description
New production.
Family opera.
Opera in 2 acts by English composer Mark-Anthony Turnage premiered at the Barbican Center in London from March 27 to April 7, 2018. Rory Mullarkey's libretto is based on Neil Gaiman's dark fantasy children's novel.
Coraline opens a mysterious door in her parents' home to discover an Other World. It is inhabited by her Other Mother and Other Father, who have buttons instead of eyes. Everything seems better in the Other World – to start with, at least…
Coraline discovers that the Other Mother wants to trap her in the Other World forever, and has kidnapped Coraline's real parents to try to force her hand. But Coraline tricks her and she and her parents finally escape safely back home.
More information is available on the official website of the opera house.
Schedule
November 16, 2019 17:00:00
November 24, 2019 14:00:00
November 29, 2019 10:30:00
December 01, 2019 14:00:00
December 10, 2019 10:30:00
December 13, 2019 10:30:00
December 14, 2019 11:00:00
January 02, 2020 14:00:00
February 01, 2020 11:00:00
February 08, 2020 11:00:00
February 16, 2020 14:00:00
February 29, 2020 11:00:00
April 17, 2020 19:00:00
April 26, 2020 14:00:00
Work's characters list
Director
Conductor
Coraline
Coraline
Mutter / Andermutter
Mutter / Andermutter
Vater / Andervater
Vater / Andervater
Mister Bobo / Ander-Bobo
Mister Bobo / Ander-Bobo
Miss Spink / Andere Miss Spink
Miss Forcible / Andere Miss Forcible
Miss Forcible / Andere Miss Forcible
Geisterkind 1
Geisterkind 2
Geisterkind 3