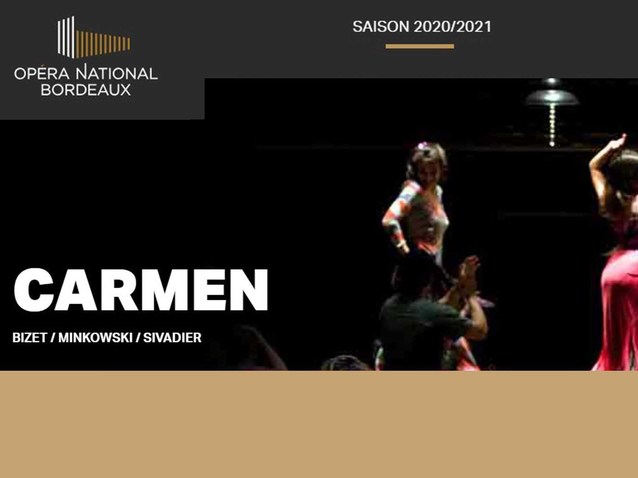 © DR
Description
Production Lille Opera and Caen Theater.
More information is available on the official website of the opera house.
Due to the persistence of health constraints imposed by the COVID-19 crisis and to adapt to curfew times, it will ultimately be a staging signed by Romain Gilbert, played in two formats: a short format without intermission (1h) entitled "Carmen, the essential", and a full version with intermission (2h45).
Schedule
May 30, 2021 17:00:00
May 31, 2021 19:00:00
June 02, 2021 19:00:00
June 03, 2021 19:00:00
June 05, 2021 17:00:00
June 06, 2021 17:00:00
June 09, 2021 19:30:00
June 10, 2021 19:30:00
June 11, 2021 19:30:00
June 12, 2021 17:00:00
Work's characters list
Director
Conductor
Carmen
Carmen
Micaela
Micaela
Frasquita
Mercédès
Don José
Don José
Escamillo
Escamillo
Zuniga
Morales
Le Remendado
Le Dancaïre