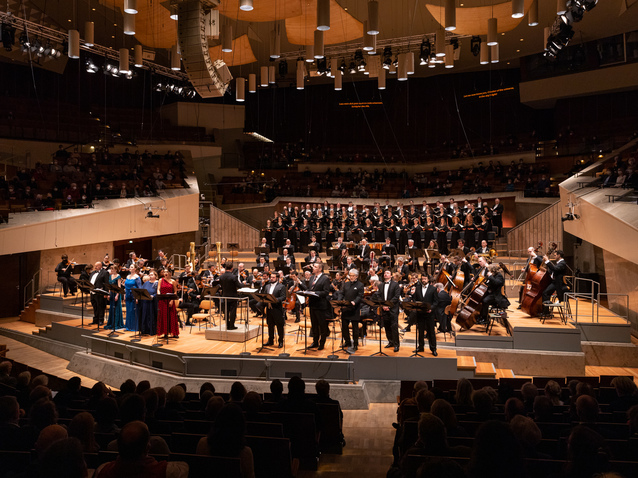 © Ole Schwarz
There are few story lines more magical than that of a beautiful young but blind princess who gains sight through the power of love to a young knight. Peter Tchaikovsky's last opera Iolanta is just that - magical, luminous, poetic and with a rare happy ending.
The story is set in 15th century Provence. The daughter of King René is blind, but does not know it because her entourage cares for her in such a way that she does not perceive her missing sense as a deficit. Her eyes, she thinks, are only for crying. It is not until the intrepid knight Vaudémont enters the forbidden palace garden and immediately falls for Iolanta's beauty, that she realizes there is a missing dimension. Through the power of love, he will later make her see - and take away her fear of the glaring brightness that now surrounds her.
The Berlin Philharmonic orchestra, under the baton of its chief conductor, Kirill Petrenko, presented three performances of this work, first premiered in Russia in 1892, in concert form. After the great success of the rarely performed drama Mazeppa last year, Petrenko continues his pet project of presenting lesser known works by Tchaikovsky. His interpretation of Iolanta seems very restrained at first, as if he were handling the score with kid gloves. Moderate tempi, fine piano shadings, pastel timbres determine the beginning, and when the ladies of the Berliner Rundfunkchor sing a lullaby at the end of the third scene, even the very well attended hall slips into a state of bliss. Only later on does Petrenko's strategy become clear - he sets up the entire first hour of the opera as a single arc of tension, right up to the climax of the love duet, followed by an almost Hollywood style final twist.
Petrenko chose a cast, which, while not all native Russians, all speak Russian at least as a second language. This fluency strongly reflects in the diction and clarity of their intonation and inate understanding of the libretto, written by the composer's brother, Modest.
Lithuanian soprano Asmik Grigorian, stepping in for Sonya Yoncheva's short-term cancellation, interpreted the character with lovely innocent intensity and clarity, her slender soprano perfect for the role of a princess blind from birth who does not know what seeing the world around her is. Her subtle transformation from going from darkness to light, underscored by an apotheosis in the music, was a very special moment. The knight Vaudemont, whose love leads her to this transformation, was embodied by Armenian tenor Liparit Avetisyan with timbre languishing splendidly even in the highest heights, exuding emotional emphasis, and unabashedly making use of what is called "tenor sobs". Mika Kares, firmly in the tradition of the great Finnish basses, is Iolanta's caring father King René, expansive in his desire to protect her from the rigors of mundane reality. Baritone Igor Golovatenko as the Duke of Burgundy and originally intended groom of Iolanta, doesn't miss any opportunities to effectively present the opera's zippiest aria with gleaming steel accords. Baritone Michael Kraus gives gravitas to his role as the wise medical doctor who guides Iolanta to regain her vision. The other minor roles are excellently cast with alto Margarita Nekrasova as Iolanta's confidante standing out with an outpouring of empathy for the young woman's fate.
The happy end is accented by Petrenko, the orchestra, the chorus and the soloists throwing themselves into a glorious Hosanna with such verve, that the listener cannot but also physically feel their fortissimo celebration and verve along with them. The one act opera, lasting just under 100 minutes without intermission, is warmly applauded by the audience, all of whom have been vaccinated and additionally tested on the day, complying with current pandemic regulations in Berlin. 
Zenaida des Aubris
the 15 of January, 2022
|
Print