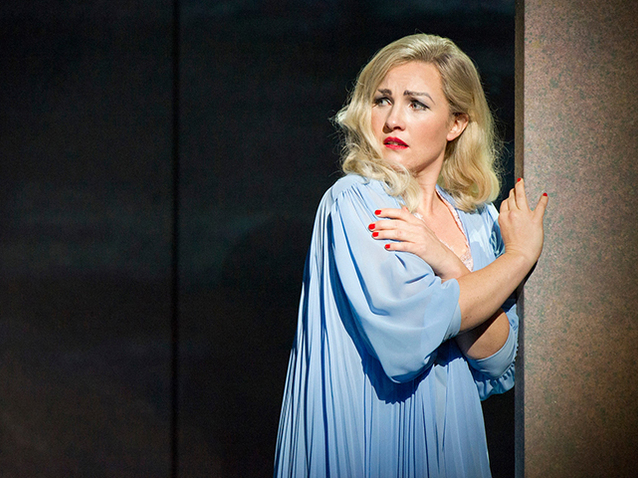 © (c) Richard Hubert Smith
Marnie is best known today as a 1964 Hitchcock film, but it actually started life as a novel written by Winston Graham in 1961. It tells of a woman who has been damaged since childhood after believing that she killed her baby brother, because that is what her mother told her. As an adult she has taken on a series of jobs, each time embedding herself in the organisation before robbing it and moving on to another using yet another pseudonym. Her philosophy is that if God is capable of forgiving anything then she will be saved, but that, irrespective of whether he is or not, none of her thefts will affect her salvation because she has already committed the most heinous of crimes. 
When one of her bosses Mark Rutland, however, discovers her thieving ways, he forces her to wed him by threatening to turn her over to the law if she refuses. Locked in an unhappy marriage, and seeing no way out, Marnie only finds peace when she finally discovers that she was not responsible for her brother's death after all. This gives her the strength to reject Mark, and to face the police concerning her other crimes as she paradoxically declares that she is finally free.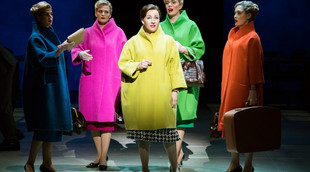 Marnie- Katie Coventry, Charlotte Beament, Sasha Cooke, Katie Stevenson,
Emma Kerr © Richard Hubert Smith / ENO
Nico Muhly's new opera version, a co-production between English National Opera and New York's Metropolitan Opera, takes a far more sympathetic view of Marnie than the film, and in the process moves somewhat closer to the original novel. She is made out to be very much the victim of the story, who sings of how all of us are a multitude of people who adopt different characters as our environments change. To emphasise this point the central Marnie is surrounded by four 'Shadow Marnies' (Charlotte Beament, Katie Coventry, Emma Kerr and Katie Stevenson) who reveal the different facets to her personality. At the same time, a group of male dancers with trim suits and sharp movements frequently appear, representing man and the forces that act against her. As they surround her bed when she is on a cruise, they seem to recall the 'men in grey suits' to whom Princess Diana regularly referred.
The intention is noble, and the ideas are brought out clearly in this innovative, effective and ultimately successful new creation. A few things, however, undermine the overall impact so that the opera is not quite as moving as it could be. Although the elements in question lie in different spheres, they are connected because they all pertain to how the piece is designed to come across.
First, the work, which is directed by Michael Mayer, feels very deliberately set up to tell us everything that we should know about Marnie, her background and feelings. With her (and other characters) consequently proclaiming their thoughts at length, we are often prevented from really feeling for the people we see. This is because the points at which we experience genuinely emotional interactions between them seem relatively rare. Second, although the set design, courtesy of Julian Crouch & 59 Productions Ltd, is in many ways successful, it all feels a little too easy. Planes and walls descend and feature projections that illustrate the drama effectively while creating some visually arresting images. However, because it is such a slick device for illustrating absolutely anything we might need to see or know, the consistent use of it throughout the evening sees the staging lack just a little in heart and hence magic.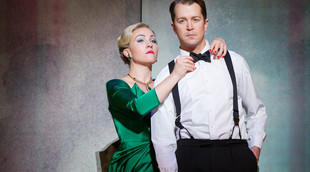 Marnie - Sasha Cooke, Daniel Okulitch © Richard Hubert Smith / ENO
Although demonstrating considerable variation, there are points at which Muhly's music, conducted here by Martyn Brabbins, does not possess sufficient drive to render emotions as powerfully as would seem necessary. Nevertheless, this is undoubtedly a good score that feels more advanced than that to be found in the composer's first creation for English National Opera, Two Boys of 2011. While the score for that felt quite derivative, there is a real sense in which this one is imbued with Muhly's own personal style, and by extension outlook on life. Overall, one might say that regarding the storytelling technique, the staging and the music, any weaknesses that can be identified should not overly detract from what is successful about each.
The performances on the night are also excellent. Sasha Cooke in the title role has a glistening mezzo-soprano that is characterised by purity of tone, while also being possessed of enough nuance, edge and darkness to plumb the depths and anxieties of the character. From among the large cast, other standout performances come from Daniel Okulitch as Mark, who reveals a strong and engaging bass-baritone, and James Laing as his brother Terry, whose countertenor is a thing of wonder. Kathleen Wilkinson and Lesley Garrett offer priceless turns as Marnie's and Mark's mothers respectively, and it is also worth mentioning that, although Marnie is undoubtedly a serious affair, some humour is still to be found as certain lines elicit genuine laughter from the audience. The final twenty minutes, on the other hand, are deeply affecting, and help to ensure that the opera closes in a particularly poignant fashion.
By Sam Smith
Marnie | 18 November – 1 December 2017 | London Coliseum
the 22 of November, 2017
|
Print