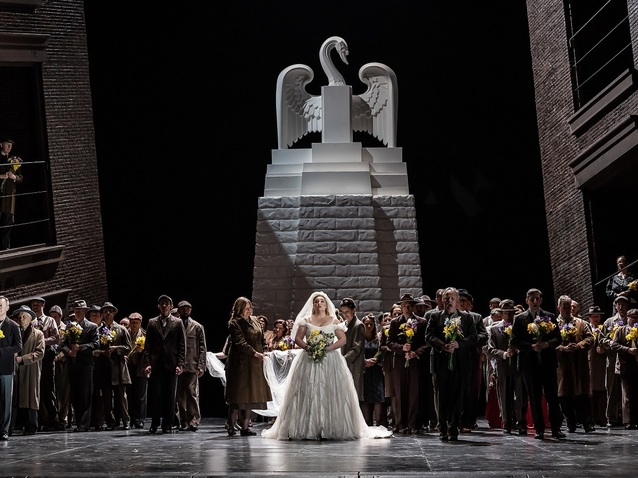 © Clive Barda
Lohengrin, which premiered in 1850 in Weimar, is the sixth of Richard Wagner's thirteen operas, and the third he wrote (after Der fliegende Holländer and Tannhäuser) that is still regularly performed today. It stands very much at a crossroads in that it harks back to classical opera in some respects, but in others looks forward to the composer's later music dramas by including leitmotifs and being essentially through-composed (although some distinct arias are to be found within it). It is also the first of his mature operas that he felt no need to revise in the years that followed its creation.
The character of Lohengrin is first found in the final chapter of Wolfram von Eschenbach's epic poem Parzival, written in the first quarter of the thirteenth century, where he is the son of the Grail King. Set in Antwerp on the Scheldt in the tenth century, the opera sees King Heinrich der Vogler arrive in Brabant planning to assemble the German tribes to expel the marauding Hungarians from his dominions. The child-Duke Gottfried of Brabant has gone missing, and his guardian Count Friedrich von Telramund accuses the Duke's older sister Elsa of murdering him so that she can become Duchess of Brabant. The King is unsure whether to believe the accusation, and decides to test it before God by pitting Telramund against a nominee of Elsa's in combat, with whoever is victorious proving to be truthful and righteous.
A Knight appears on a boat drawn by a swan, offers to be Elsa's champion and defeats Telramund while sparing his life. The Knight made Elsa promise that she would never ask his name or where he came from, and this holds even when they plan to marry. The King offers to make the Knight Duke of Brabant, in the hopes that he will lead the people to glorious new conquests, but the Knight prefers to be known as 'Protector of Brabant'. However, the banished Telramund and his wife, the sorceress Ortrud, interrupt the wedding ceremony, accusing the Knight of sorcery and claiming the duel was invalid because he remains anonymous and trial by combat is only open to established citizens. The King dismisses the claims, and the ceremony goes ahead.
However, despite Elsa reaffirming her loyalty, all of this casts doubt in her mind, and on their wedding night she asks the Knight the fatal question. The Knight then kills Telramund when he attacks him, and rushes to the banks of the Scheldt where everyone is assembled for war to tell them that he cannot lead them into battle. He explains that he is Lohengrin, Knight of the Holy Grail and son of King Parsifal, sent to protect an unjustly accused woman. However, the laws of the order require knights to remain anonymous, and if their identity is ever discovered they must return home. As Lohengrin is about to board the swan-boat, Ortrud declares that the swan is Gottfried who she cursed and transformed. The Knight prays, and Gottfried is restored to his human form to become Duke of Brabant. Lohengrin departs for the Castle of the Holy Grail while Elsa, stricken with grief, falls to the ground.
In his 2018 production for the Royal Opera, director David Alden sets the drama in a war-torn and politically unstable society. The precise date is deliberately kept vague, but as the location of Brabant falls squarely at the centre of the First World War, that conflict certainly springs to mind. At the same time, much of what we see feels reminiscent of 1930s dictatorships as Albert Speer could have been behind the clean shape of the swan statue that features in Act II. Paul Steinberg's set presents sloping buildings that could either have been physically damaged by war, or simply describe the way in which the society has been torn to pieces. In fact, nothing seems to have been untouched by the ravages of war as even the Herald (an excellent Derek Welton) sports a false arm and leg brace.
Although it is entirely correct to reveal how in this context religion, politics and statecraft are intertwined, this production, like many of Tannhäuser, arguably focuses on the wider political context too much. This is to the detriment of understanding the total piety and religiosity of the culture, which still provides the main explanation for why various people think and behave as they do. Nevertheless, with the Russian invasion of the Ukraine, the staging feels particularly prescient, while a link to the original setting is provided by showing how Heinrich harks back to former days of glory. The soldiers carry medieval weapons, and adopt a new banner that resembles the German black eagle, only a swan now takes the place of that bird. This captures the idea of yearning for the past perfectly because the eagle image appeared on the medieval coat of arms of the Holy Roman Emperors before being reintroduced between 1871 and 1918. In the event, however, it is amazing to see just how quickly the people who at the start of the final scene seem so proud and alert soon look like an impoverished and desperate rabble once more.
Lohengrin is not the easiest of operas to stage because it demands a large chorus to remain visible for lengthy periods without necessarily having much to do. In this respect, Alden's production outshines its predecessor at the Royal Opera House, Elijah Moshinsky's version of 1977, which looked gorgeous but did see people stand around a lot. Alden thinks carefully about the placement of the multitudinous figures, and also ensures that they leave the stage for periods. This provides some variation and makes certain scenes such as Elsa's first substantial encounter with Lohengrin feel far more intimate. At the same time, Ortrud is retained as a central presence to reveal just how much she manipulates Telramund. When he proclaims that his sword will defend his honour he brandishes it, but only because Ortrud is there to thrust it into his hand, and when the Brabantian nobles urge him to back out of the fight, she stares at him menacingly to tell him to go on.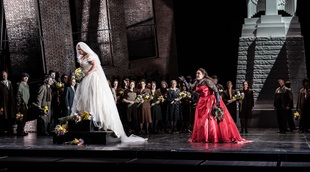 Jennifer Davis, Anna Smirnova (c) Clive Barda
There are still, however, some occasions when the visuals are a little too much to fit the music or overall tone of the piece. After the trial by combat is proposed soldiers point guns at Elsa, while leaving Telramund alone. This may reveal how everyone at this stage believes the Count rather than her, but it comes across as an effort to introduce drama for the sake of it because it feels a rather heavy-handed action for the occasion. Elsewhere, and particularly during Elsa's beautiful Act I aria 'Einsam in trüben Tagen', characters are required to crawl, roll and struggle across the stage just a little too much. When Lohengrin laments the swan having to make a final journey, Elsa advances slowly in what seems like a stereotypical assumption of sorrow when a greater stillness on her part might have been more powerful. Conversely, the manner in which Lohengrin dispatches Telramund with a turn after he attacks is very slick. Almost in an instant the scene is transformed from one of mass activity as several nobles rush in to one of stillness as they 'freeze'. It is also a nice touch that, in stark contrast to all of the other sets, Lohengrin and Elsa's bed chamber bears a painting from August von Heckel's Lohengrin mural cycle, which can be found in Ludwig II of Bavaria's Castle of Neuschwanstein (literally New Swan Stone).
In the title role, Brandon Jovanovich's very self embodies the radiance of the Knight just as much as his fabulous tenor does. When the vocal demands are so enormous from a technical perspective and in terms of stamina, almost the hardest thing to do is ensure that the sound is ultimately aesthetically pleasing, but Jovanovich's certainly is as he makes it all look effortless. When Jennifer Davis first played Elsa here in 2018 she displayed a freshness in her soprano that is lacking in many assumptions of the role. This time around she maintains that quality but her voice feels even more sumptuous than before, meaning that in this masterly portrayal we get the best of both worlds. Gábor Bretz makes his magnificent bass count as King Heinrich, while Craig Colclough is equally strong as Telramund. It really looks as if he genuinely believes in the accusation he makes at the start, and yet as soon as Lohengrin appears he begins to crumble suggesting he knows that he (or Ortrud) only convinced himself of his own righteousness so that exposure is the likely consequence. Anna Smirnova is an incredible Ortrud, with her extraordinarily rich, full and well shaped mezzo-soprano making her a formidable presence who can be just as convincing as she is manipulative (Maida Hundeling plays the part on 11 and 14 May). Jakub Hrůša's conducting is extremely effective as he delineates the lines to perfection while also understanding how to blend them once more so that the output positively glistens and gleams. 
By Sam Smith
Lohengrin | 19 April - 14 May 2022 | Royal Opera House, Covent Garden
the 26 of April, 2022
|
Print